Learn how to print multiple files contained in a folder, ZIP or RAR archive, or a text file with a list of documents using Print Conductor.
First off, select a printer that you want to send your list of files to. Then add your files into Print Conductor using one of the methods described below. Let's get started!
Drag files and drop them to the list
Just open a folder, press Ctrl + A, drag the selected items and drop them onto Print Conductor main window: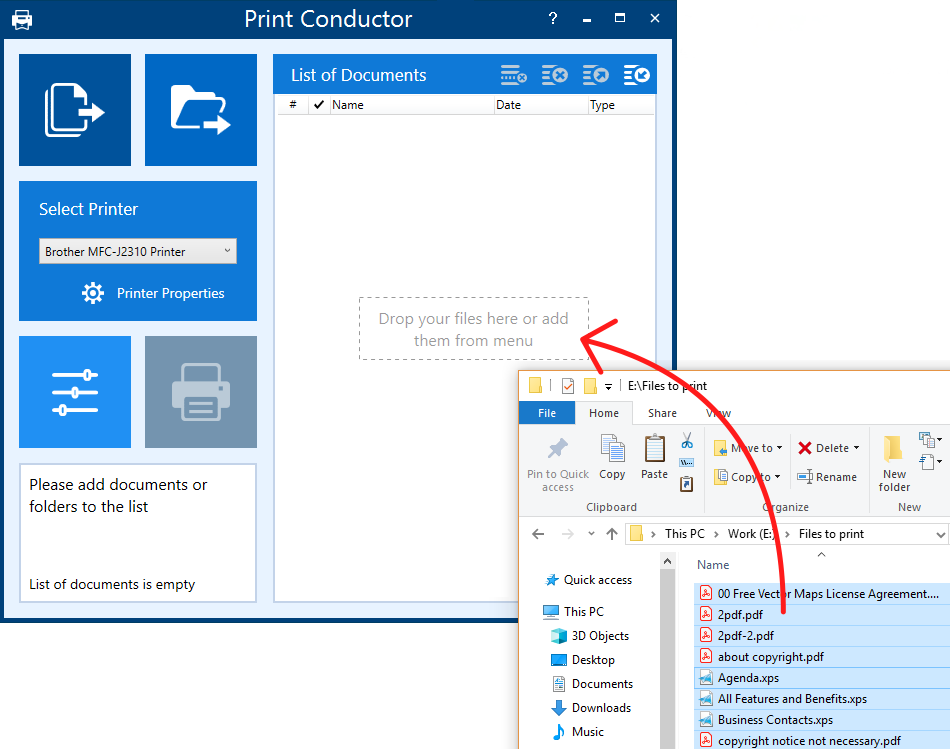 Click Add Documents or Add Folder button
Alternatively, you can import files by clicking the Add Documents button. This button opens a window where you can browse for files. Here you can select between all supported file formats or only certain ones. Add Folder button allows importing an entire folder of files.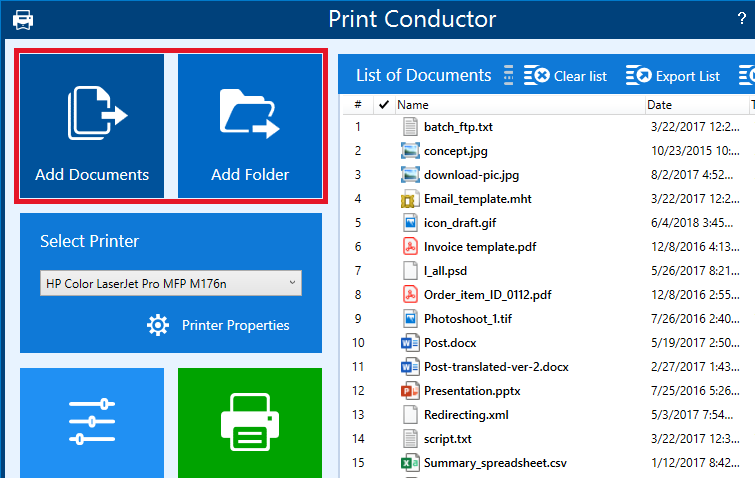 You can customize which folder opens when you click either of these buttons. To configure it, find the Initial folder for "Add folder" and Initial folder for "Add documents" settings in the Advanced Settings and change them. By default, the initial folder is the last opened folder.

Add documents from a ZIP, RAR, or 7ZIP archive
You can also add documents from an archive without extracting them beforehand. Just drag a ZIP file (or another type of archive) and drop it onto the Print Conductor main window. All files in this archive will be automatically added to the list.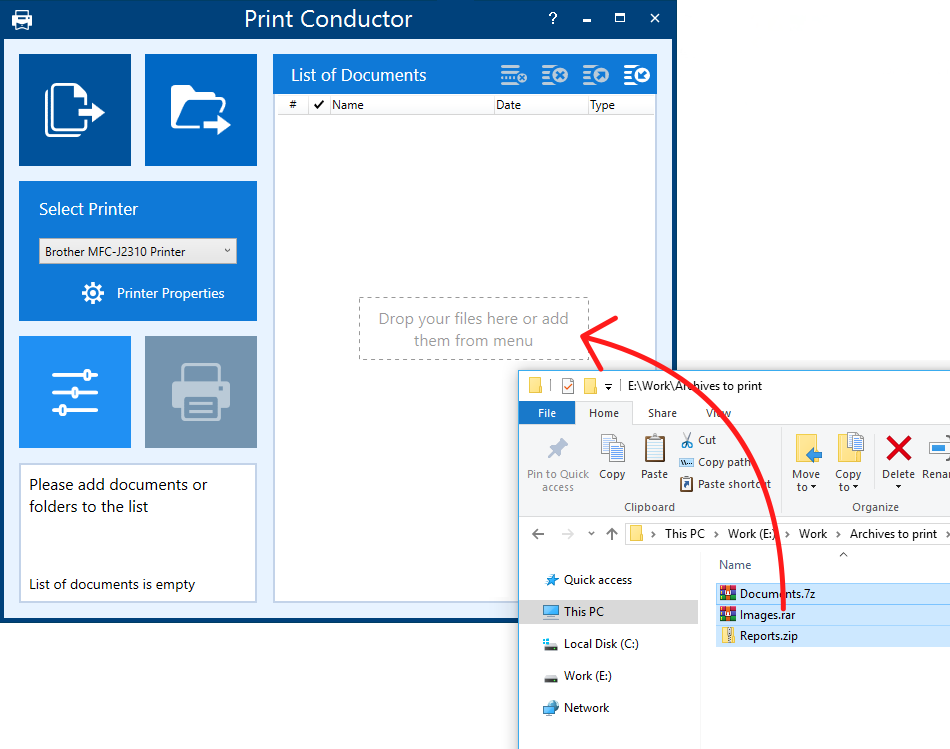 Import a list of files from a TXT file
You can also import a list if you already have file paths listed (e.g., a list of file destinations created by another software). On the main window, click the Import List button to import it into Print Conductor.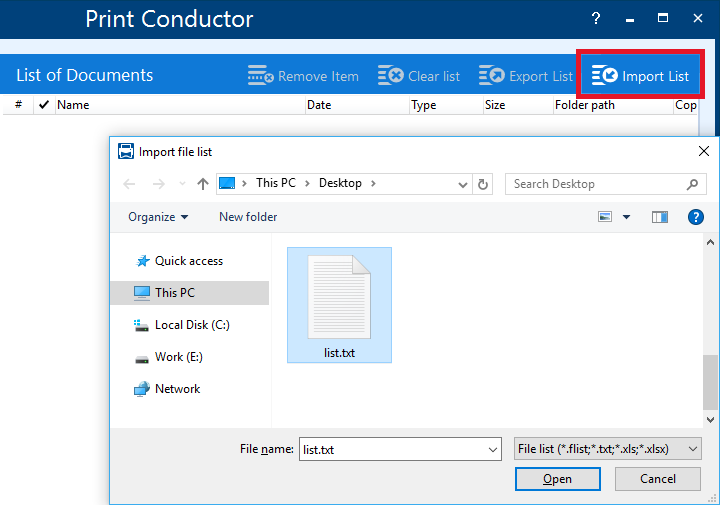 The TXT file must contain full file paths (with or without double quotation marks), each on a separate line.
Using wildcards in a TXT file list
When importing a list of files from a text file, it is possible to use commonly used system wildcard characters. For example:
Asterisk (star, *). The asterisk is the wildcard character which stands for any string of characters (including no characters at all).
Question mark (?). The question mark matches one single character. It stands for any random character.

Importing a list of web pages (URLs) to be printed
If you have URLs of web pages that you want to print, simply save them as a TXT file (each web address on a separate line). Then, load the file list to Print Conductor using the Import List button. The web pages will be automatically converted to HTML and ready for printing.

Import a list of documents from an Excel file (XLS, XLSX)
If you have Microsoft Excel installed, you can upload a list of document file paths contained within an XLS or XLSX file. You'll need a basic spreadsheet with file paths. The header of the first column should be named #file. File paths should be added to this column.

#file is a must, and it should include a full path to the file and the filename. The remaining columns are optional. You can add optional parameters for each file. To do it, add the following columns with headings:

#copies (set the number of copies to be printed. For example 3)
#pages (set the page range, e.g., 1,3,10-25)
#papersize (set paper format, e.g., Letter; see instruction below)
#duplex (set duplex mode: Long-edge binding, Short-edge binding, As in printer, Simplex)
#orientation (set page orientation: Portrait, Landscape, As in document, As in printer)
#color (set color mode: Color or Grayscale)
#customtext (enter user-specified text for custom sorting)
#trayname (select a printer tray as described below)
To check available paper sizes and tray names for the current printer, click the Print Conductor logo and select Printer info...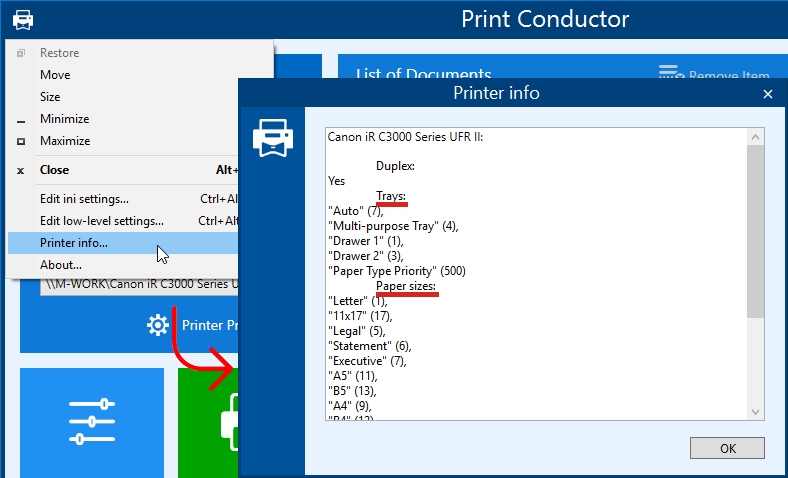 Once you have added all necessary files to Print Conductor's List of Documents, you can click Start Printing.
Load a list from Print Conductor's FLIST file
When you have a saved list that was previously exported from the program's interface, you can load it anytime you need to print the documents. Simply double-click the FLIST file or do it by clicking the Import button.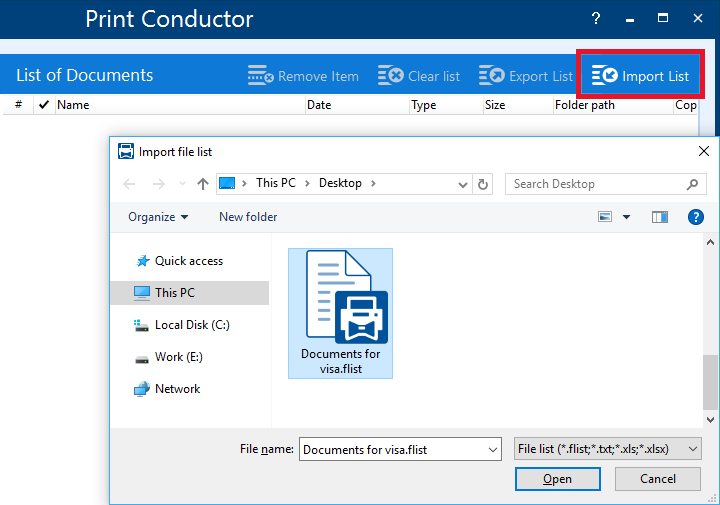 Now that you know how to add files and create lists for Print Conductor, you can print the same documents again without any effort. The program supports the import of these types of lists: TXT, FLIST, XLSX, and XLS files as well as ZIP, RAR, 7ZIP archives. Loading a previously saved list can be done either by clicking the Import button or by double-clicking the FLIST file or drag-dropping a FLIST file onto Print Conductor main window.
Setting the printer to be selected automatically when importing FLIST file
If you have your List of Documents as a FLIST or TXT file, you can edit it using a text editor such as Notepad (right-click the file, click Open with… and select Notepad).
This way, you can insert the printer's name in that FLIST file – just add a line PrinterName="[printer name]" in the beginning of the file, on a separate line (see screenshot below). As a result, the desired printer will be selected automatically when this FLIST file is loaded in Print Conductor.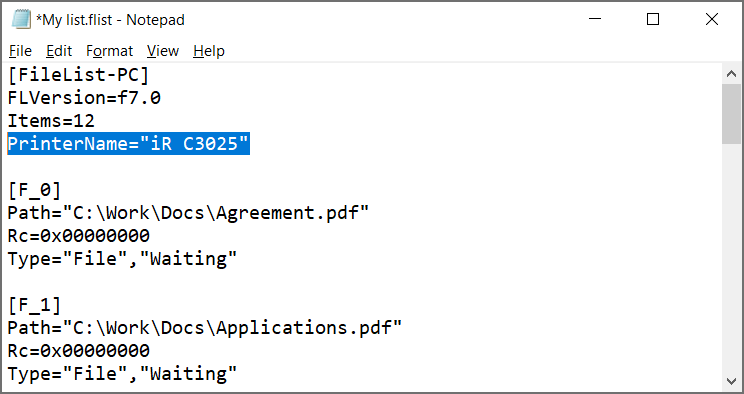 Load files from selected folders at program start
Suppose you have all the necessary files for printing located in a folder (or several folders). In that case, you can get them instantly added to the program. Print Conductor will automatically scan them and import all files into the List of Documents when the program starts.
To use this feature, find Load files from folders in the Advanced Settings and specify a path to one or more folders: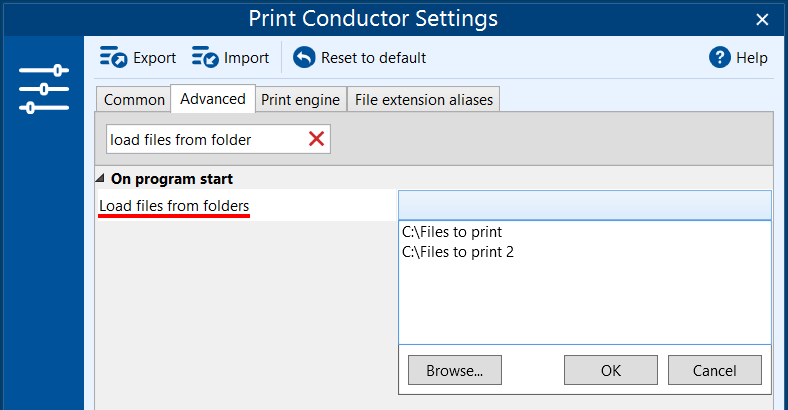 ---
See also:
How To
Get other useful guides on using Print Conductor and see many other useful how-tos, solutions, tips & tricks on effective batch printing. You'll find out how to import & export files, manage print lists, configure document and page settings, set up service pages, and so much more.