Print Conductor is a smart software solution for automated printing. Batch print PDF files, office documents, technical drawings, legal documents, agreements, presentations, text files, e-mails with attachments, charts, spreadsheets, invoices, images, and many other types of files. The program supports many popular file formats: PDF, DOC, TXT, PSD, XLS, PPT, MSG, JPG, PNG, TIFF, and more. All in one interface!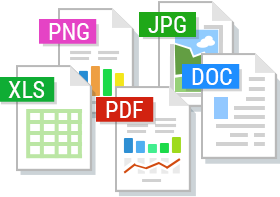 Automated Printing of 90+ Filetypes
Print Conductor lets you print batches of files without opening each one of them manually. You no longer need to open a file, click "File" > "Print", select printer, set up print settings, and click "Print". Instead, simply add documents to a list using drag & drop, set necessary parameters, select a printer, and let Print Conductor do the job.
Various document types are supported: PDF documents, images, text files, CAD files & technical drawings, legal documents, agreements, presentations, e-mails, leaflets, spreadsheets, invoices, barcode labels, script files, and many more. Print Conductor can batch print:
PDF files
Office documents: Microsoft Office Word DOC and DOCX documents, Excel XLS and XLSX spreadsheets, PowerPoint PPT and PPTX presentations, Visio VSD drawings, Publisher PUB files, OpenOffice ODT documents, WPD, RTF, TXT files, XLS charts, PPT presentations, Outlook EML, MSG, PST, OST email messages and more
CAD files & technical drawings: Autodesk AutoCAD DXF and DWG drawings, SLDDRW, VSD, IDW, IPN (Autodesk, SolidWorks, Visio files), MathCAD Prime MCDX, MCTX, KOMPAS-3D, and more
Image files: JPEG, PNG, TIFF, PSD, SVG, TGA, RAW images, CorelDraw CDR, CGM, and more
Archives & archive-based formats: RAR, ZIP, 7ZIP, GZIP, JAR, TAR, P7M
Zebra ZPL files: labels, industrial barcodes, QR-codes
See the full list of supported file formats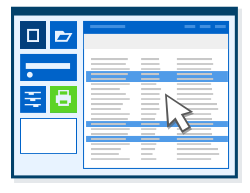 One Interface for Different Document Types
Print Conductor has a simple and very user-friendly interface. The program is compatible with all the latest versions of Microsoft Windows. So you can start printing documents immediately after installing the program – no need to take extra efforts to master the product.
Functionality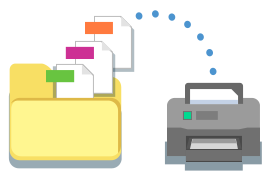 Fast and Reliable Printing Engine
Print Conductor ensures high print quality as well as small traffic load on printer memory and office local network. It has a reliable processing core, and the program deals with large volumes of documents without any problem. Just hit the "Start Printing" button and switch over to your tasks.
Control of the Bulk Printing Process
Once you start a print job, you'll always know how many documents have already been printed and how many remain in the queue. Any files that failed to print are also reported to the user. After processing the entire list of documents, the program provides a detailed job report.
Lists of Documents for Regular Use
If you often need to print the same files in batches, make regular use of Lists of Documents. Create and save Lists of Documents to use them again later. You can import, export, clear lists, add new files, and remove items from the Lists.
Compatibility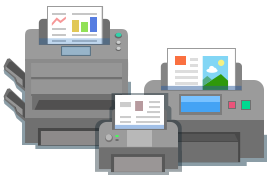 All Types of Printers Supported
Print Conductor can print documents on any printing device: local printer, network printer or virtual printer. Additionally, you can adjust the settings of the selected printer. You can convert a list of documents to PDF, TIFF, or JPEG if you use Print Conductor with a virtual printer software like Universal Document Converter.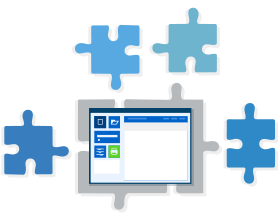 Print Conductor & Other Software
Most files can be printed merely by Print Conductor's internal engine. However, the program's processing core may need other software installed for certain filetypes. The program will need Microsoft Visio, Autodesk AutoCAD, or eDrawings Viewer for printing technical drawings and documentation. You can check if you have the necessary programs installed in advance – see the full list of supported formats page or look it up in the program's help menu.
Support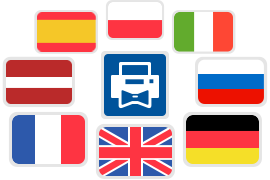 Multilanguage User Interface
As of version 8.0, Print Conductor interface is available in 15 languages: English, Deutsch (German), Español (Spanish), Français (French), Italiano (Italian), Język polski (Polish), Čeština (Czech), Nederlands (Dutch), Русский (Russian), 日本語 (Japanese), 中文 (Chinese), Swedish (Svenska), Arabic (اَلْعَرَبِيَّةُ), Türkçe (Turkish), and Português do Brasil (Brazilian Portuguese). Didn't find your native language? Let us know!
Customer Support
Having trouble printing a specific filetype or need advice on your printer settings? Check our How To section or contact our IT developers' team to get high-quality technical support on your issue. Just drop us a note, and our specialists will reply within a few hours. We can help you adjust Print Conductor specifically for your business needs. We can even make a custom build of the program specifically for your task.