Print Conductor is an easy and cost-effective solution to equip multiple employees across the entire organization with professional batch printing software. Order a license of Print Conductor to use it for business or within your company.
Volume Licensing for Business
Flexible wholesale discounts are provided starting from licenses for 5 users. You can choose pre-defined license packs, or just set the exact number of users in the form above - price and volume discount will be calculated automatically.
Benefits of Using the Commercial Version
Once you have the commercial version of Print Conductor, you get:
Ability to print an unlimited number of files with no restrictions;
All minor updates – new releases within a major update (e.g., ver. 8.1, 8.2, etc.) for free;
Professional customer support directly from the development team;
Ability to disable the report page if you don't need it;
Ability to disable automatic checks for updates;
No advertising or nag screens.
As the program evolves, adding new features and making improvements take resources. We invest a lot in the development, and if you buy the commercial license, it will help us create great new software and enhance existing software solutions.
Ordering Print Conductor license is a one-time purchase with no additional fees. Besides, we provide volume discounts if you buy in bulk and a special discount if you represent a non-profit or educational organization.
Enterprise License
We offer simple and flexible licensing options to fit the requirements of any organization - from small businesses to large corporations. Licensing is based on annual subscription. The Enterprise license gives you high priority customer support, custom-made builds of the program (if necessary) and all new minor & major updates free of charge. Print Conductor multi-user license for one organization starts from $2450. Please contact us to get a quote.
Educational and Non-Profit
We also provide flexible licensing options and discounts for public institutions, educational, non-commercial and governmental organizations. Please contact us for more information.
Payment Options
Online
Make your order online - it is the fastest and the easiest way to purchase the program. All payments are processed through PayPro, a global e-commerce payment system. All data is transmitted via secure (encrypted) HTTPS protocol according to the current SSL standard. After making an order you will receive an email notification from PayPro Global automatically.
Offline
In addition to convenient and secure online payment methods (PayPal or credit card), Print Conductor comes with offline payment options - fax, bank/wire transfer or check. Please make an offline payment request via customer support page.
Currency
All prices are fixed in US dollars. Payments using any other currency are also available – the price is calculated based on the current exchange rate.
Need another payment method?
If none of the offered payment methods is suitable for you for any reason or if you have any questions, please get in touch with us. We will try to come up with a solution.
Resellers and Distributors Network
Join our global network as a software reseller or distributor! Contact our support service for more details.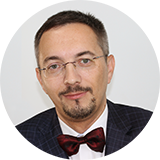 By using an activated and verified license of Print Conductor you give us possibilities to release more updates and develop new software products for effective document workflow.
Mikhael Bolgov, Head of Product