There are some ins and outs which should be considered when printing one or multiple PDF documents at once. In this guide, we'll review different aspects of PDF printing: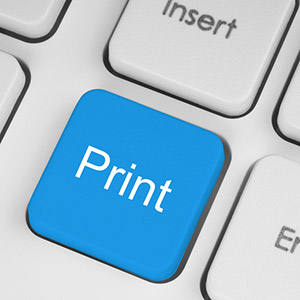 About PDF
PDF (Portable Document Format) is a file format used for displaying documents in electronic form. It is one of the most widely-used digital formats. PDFs are used by most of the companies in the business world nowadays. They are used to save customers' and employees' records, for saving, viewing and sharing contracts, applications, and many other types of documents.
Basic print settings
These are basic print settings you can specify when printing office documents, including PDF files. These settings are available in most scenarios – if you print via standard Windows Print dialog, Acrobat Reader, a web browser, a PDF viewer or other software:
| | |
| --- | --- |
| Option | Description |
| Copies | Specifies the number of copies of the document to be printed |
| Duplex printing | Enables double-sided printing mode, i.e., printing on both sides of the paper |
| Orientation | Defines page orientation – portrait or landscape |
| Collation | Allows taking multiple different pages and putting them together into a complete set |
| Pages per sheet | Specifies how many pages should be printed on a sheet of paper |
| Paper size | Determines paper size (page format), e.g., A4 |
| Paper type | Specifies the type of paper, e.g., Light 60-74g |
| Paper tray | Specifies paper tray (paper source) if your printer has different trays |
| Color mode | Sets printing in color or grayscale (black and white) printing |
| Page autorotation | Enables rotation of pages within each sheet according to their width and height |
| Page scaling | Defines the positioning and scaling of PDF pages on sheets of paper. |
These are the most common parameters, and we'll cover more details on duplex printing, printing password-protected PDFs, printing PDF with comments, and batch printing.
Printing PDF in duplex (double-sided printing)
To save paper, you can print PDF double-sided if your printer supports this feature. Double-sided printing is also called duplex, back to back, front and back, printing on both sides of the paper or two-sided printing. Depending on your printer model or software, there are usually three options for this mode:
Simplex – Printing on one side of the paper only
Long-edge binding – Paper is printed on both sides, in portrait orientation so that pages turn along the long edge;
Short-edge binding – Paper is printed on both sides, in landscape orientation so that pages turn along the short edge.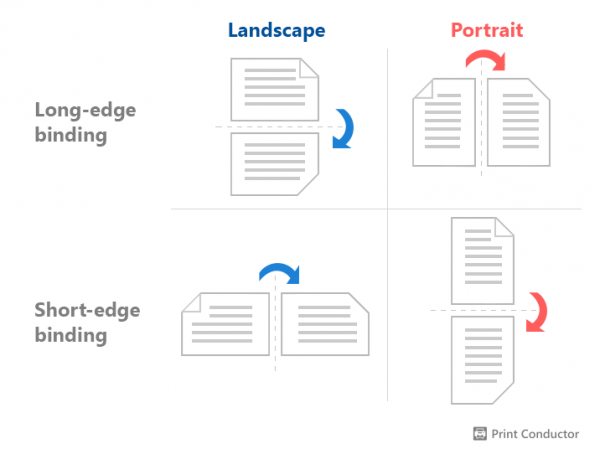 In Print Conductor, you can set up this parameter by going to Settings > Advanced > Duplex and select between Long-edge binding or Short-edge binding (or keep printer default setting). With Print Conductor, these settings can be applied to all files in the list or certain individual files.
If you use Acrobat DC or Reader DC, these options are called Flip on long edge and Flip on short edge accordingly:

Long-edge binding is best when printing a regular double-sided document on portrait orientation, whereas short-edge binding is best for printing documents on landscape orientation.
Setting your printer to double-sided printing
If you cannot see the duplex printing option right on the print dialog window, check your printing preferences first. Open Control panel > Devices and printers and right-click the printer you're using. Select Printing preferences and open Printing shortcuts tab. There you will see Print on both sides or a similar option which can be turned on.
Printing secured PDF (password-protected PDF)
When a PDF document is created and saved, it can be encrypted with a password for security or other reasons by the author. For example, with Adobe Acrobat, you can set a password to single or multiple PDF files (via Security Envelope tool). Some batch printing software like Print Conductor has an option to enter one or more passwords before the print session so that the program can print multiple secured PDFs without any problem.
How to print a secured PDF file without password
Tip: if you have a PDF document restricted from printing, and there is no way to unlock it using a password, try this method:
Upload the PDF file to a Google Drive folder
Double click the uploaded file
Click the printer icon (Print) in the top right corner
Now the file is accessible for printing via the standard Google Drive print dialog. It also can be saved to PDF again, and the saved copy will not have restrictions from printing.
How to print multiple locked PDF files
If you need to print several password-protected PDF files, you can use Print Conductor.
You can find this option in Settings > Advanced > Document open password and enter a password (or passwords separated by commas):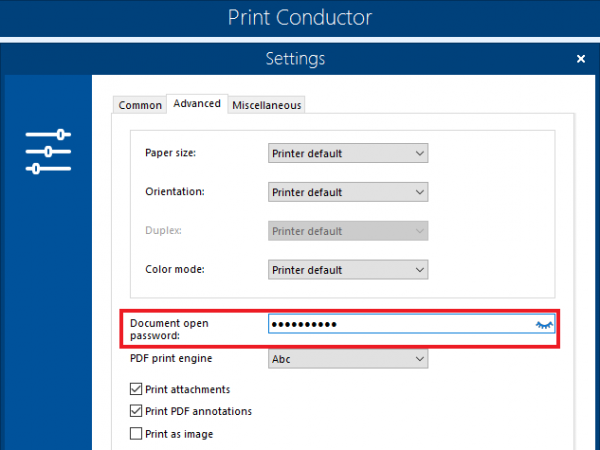 Printing PDF with comments & mark-ups
PDF documents or PDF Portfolio files can contain comments and mark-ups (annotations) made by users. Comments and annotations are contained on a layer over the PDF page.  Different PDF viewers have a variety of printing options for printing comments and annotations.
How to print comments in a PDF
You can print comments either as a list on the summary page or in place (like text highlights or sticky notes on each page). You can print PDFs with comments and mark-ups so that they appear on printouts from Acrobat or Reader. Find the Comments and Forms section in the print dialog window.
To print a PDF with comments on a summary page, follow these steps:
Open a document and click File > Print
Select Document and Markups under the Comments & Forms section
Click Summarize Comments
Click Print
There are also other ways to set up the printing of comments and annotations. Alternatively, you can use the Flatten Markups option to merge the mark-ups into the PDF content, which ensures that they will always print from within Acrobat and other PDF viewers.
Printing multiple PDF pages on a single sheet
You can print more than one page of a PDF onto a single sheet of paper. It's the right option to use if you need to print, e.g., multiple pages, images or slides per sheet in PDFs. This feature is also called N-up printing (such as 2-up or 6-up); you can select a custom number up to 99. You can specify how the pages are ordered: either horizontally across the page or in vertical columns.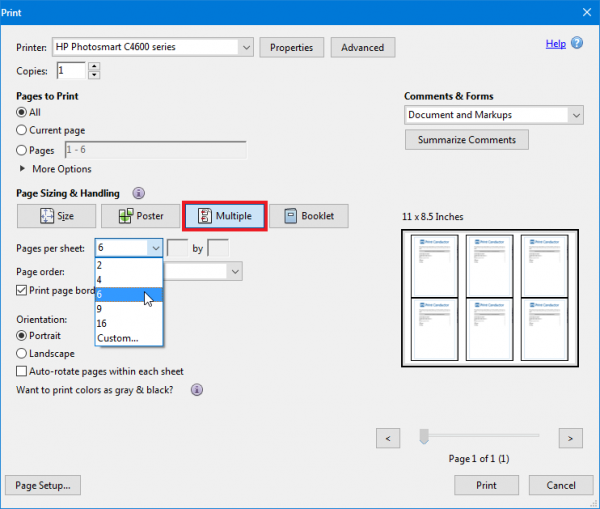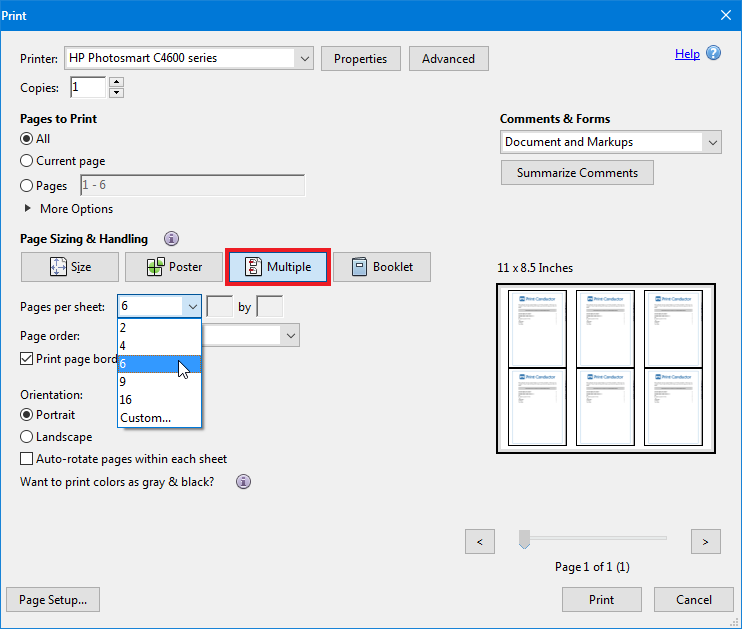 Note: The print settings of Acrobat or another PDF viewer don't reflect the N-up settings of the printer drivers. Select the multiple pages options either in Acrobat or in the printer driver, but not both.
Batch printing multiple PDF files at once
Batch printing PDF can be very advantageous. With the right application (such as Print Conductor or FolderMill), you can easily send different filetypes such as Excel, Word, PowerPoint, or PDF and send them to the printer as a single print job. It comes in handy when, e.g., you need to quickly print a set of files that requires the use of all of these different formats or a lot of various PDF documents. Another advantage of this approach is that you don't need to open each file manually and thus can save much time.
How to print multiple PDF files on Windows
Locate the PDF documents on your computer that you want to print, and move them into one folder;
Hold the Ctrl key and select all the PDF documents that you want to print or Ctrl + A to select all files in a folder;
Right-click the selected PDF files and click Print.
Note: This method works with a limitation – you can have selected up to 15 PDF files at once.
How to print more than 15 PDF files at once
Considering the limitations of the abovementioned method, it's a good idea to use a third-party software designed specifically for batch printing such as Print Conductor. It can print more than 15 files at a time (the number of files per session is unlimited). What is more, it's a great time saver, since you don't need to open each file in its native application. This program for Windows 10/8/7/XP automates the printing of various files like Word, Excel, PowerPoint, images, emails, PDFs, and many others. The entire process is simple:
Open Print Conductor;
Add files, an entire folder or an archive with files that you want to print;
Select a printer and make settings if necessary;
Click Start to launch the batch printing process.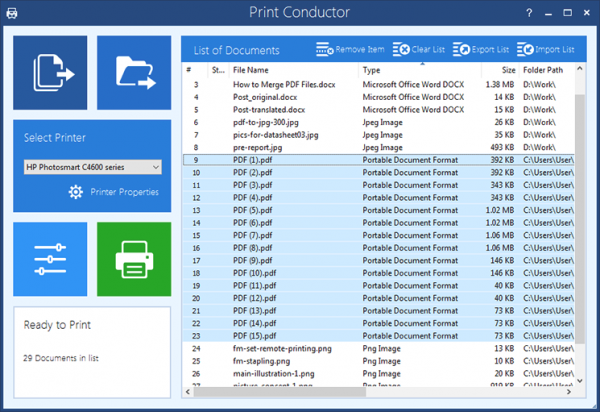 The program allows configuring all basic settings in the interface and has additional features too, such as adding cover pages to separate printouts, saving lists of files, printing password-protected PDFs, and more.
How to print multiple PDF files from Acrobat
Open Adobe Acrobat;
Open Tools on the top panel;
Go to Action Wizard > New action > More tools > Print;
Add Print action to the right-hand pane by clicking the plus icon;
Save action by clicking the Save button and name it as you like;
Click the saved action appeared in the Action list in the right;
Click Add files… or Add folder… button;
Once the necessary files are added, click Start.
How to combine multiple files to a single PDF
Another option is to merge different files into a single PDF file beforehand. You can combine images, documents, text files, worksheets or PDFs, etc. into one multipage PDF and then just print it. This way, you can print a whole lot of documents very easily. Since all files will be contained within a single file, you'll avoid a situation when print jobs get mixed together (when different employees print their files at the same time on the same printer).
To combine your files together before printing, we suggest using a PDF merge tool such as Universal Document Converter or DocuFreezer.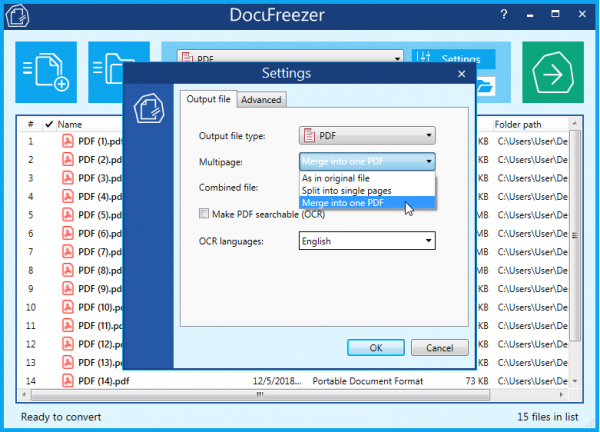 Printing to a PDF file
Phrases "print PDF" and "print to PDF" may look similar, but they actually have a different meaning. "Print to PDF" means printing to a file which implies saving an electronic copy of your file to disk (also called print-to-file function). So, besides physical printers that would print your document on paper, you can use this function to convert a document to PDF from almost any application. To do it, open a document and select File > Print. Then select a virtual printer such as Universal Document Converter or Adobe PDF Printer.


Once a virtual printer is selected, you can configure other options by clicking the Properties button (just like you would do with a regular printer) and click Print when ready.
If you have a document or image uploaded to Google Drive, you can save it to PDF the same way, using the print dialog: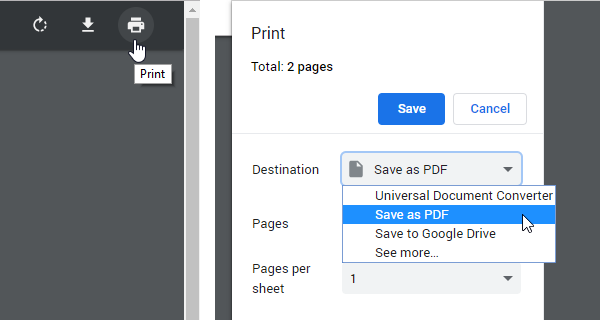 Advantages of the PDF format
The PDF format, developed by the Adobe Systems in the 1990s, stands for Portable Document Format. There was a need to share documents among different computers and operating systems without losing data and file formatting. Hence to exchange data in an unaltered way, the PDF file format was created. The PDF format is still being maintained and upgraded with new functions. Below are the main seven advantages why PDF is one of the best formats to use.
Platform-independent
PDF file works well in different environments like Windows, Unix, and Macintosh. The files can be easily shared across different platforms, be it Windows or Mac. Any files or documents in Windows can be easily opened and read on Mac without any formatting.
Easy to edit, view, and exchange
Editing, viewing, or sharing of PDF files is almost effortless. Many PDF viewers are freely available for doing all these tasks. Hence you can read and edit those files anywhere – on a computer, laptop, smartphone or tablet.
Can be secured via password protection
Any PDF file can be locked by a password. This way, you can save the document from getting into wrong hands and secure confidential data. If you are handing over some sensitive information to someone than password protection would ensure that only the person knowing the correct password would be allowed to view the document.
Supports digital signatures
PDF offers secure data encryption to transfer the data. The digital signature is used to confirm a user's authenticity when creating a contract or any other document. You can specify signers and adjust how to validate digital signatures the way you need it.
Keeps document formatting and appearance unaltered
When you share your file in other formats (such as Word) from one system to another, then formatting can be occasionally destroyed. It may become or look a little different from the original one.
Can be compressed to reduce the file size
PDF files can be compressed easily in Adobe Reader itself. This is really helpful when a PDF contains graphics or other media. Compression of data can be done using different compression algorithms so that you can set the acceptable image quality.
Can contain interactive elements and media
Various content like texts, images, charts, graphics, hyperlinks, file attachments and annotations, even music and video clips, are supported in PDF. One can also export and import this data.