This article describes two ways to find the Serial Number and the Version Number of the installed commercial version of Print Conductor. You can find them quickly and include them in your message when contacting customer support. When the Serial Number is provided in your first message, it will help us solve your issue faster.
Where to locate the Serial Number and the Version Number:
1. On the About window
Open Print Conductor and click the question mark icon in the top right corner of the main window. The About window will appear, where you will see your Version Number and Serial Number.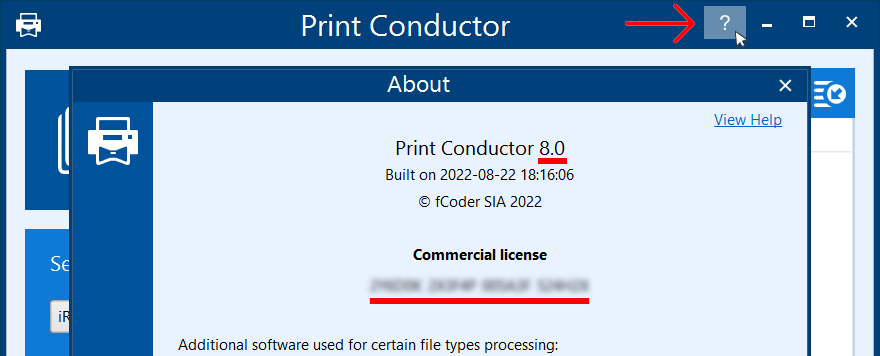 Please note that the Serial Number is displayed on the About window starting from Print Conductor version 8.0. If you use an older version, see another way below (and we recommend you upgrade to the latest version for a better experience).
2. In Windows Registry
Alternatively, the Serial Number can be located in the HKEY_LOCAL_MACHINE (HKLM) Windows Registry where configuration information for various programs is stored. The path is:;
HKEY_LOCAL_MACHINE\SOFTWARE\fCoder\Print Conductor
or
HKEY_LOCAL_MACHINE\SOFTWARE\WOW6432Node\fCoder\Print Conductor
To find your Serial Number:
Open Registry Editor: press Windows + R (Win + R) to open Windows Run dialog, type regedit, and press Enter;
Find HKEY_LOCAL_MACHINE in the left panel of the Registry Editor. Click the arrow icon next to it to expand HKEY_LOCAL_MACHINE;
Navigate to Print Conductor (HKEY_LOCAL_MACHINE\SOFTWARE\fCoder\Print Conductor);
Right-click the Serial registry key and choose Modify…
Copy your Serial Number to save it.
---
See also
How To
Get other useful guides on using Print Conductor and see many other useful how-tos, solutions, tips & tricks on effective batch printing. You'll find out how to import & export files, manage print lists, configure document and page settings, set up service pages, and so much more.