We start a special initiative to support healthcare staff during the global crisis that is happening now, after the Coronavirus outbreak. 
Medical organizations around the world are now eligible to request a full-featured version of our batch printing and automation software free of charge. We offer them our two flagship products for free: Print Conductor and FolderMill.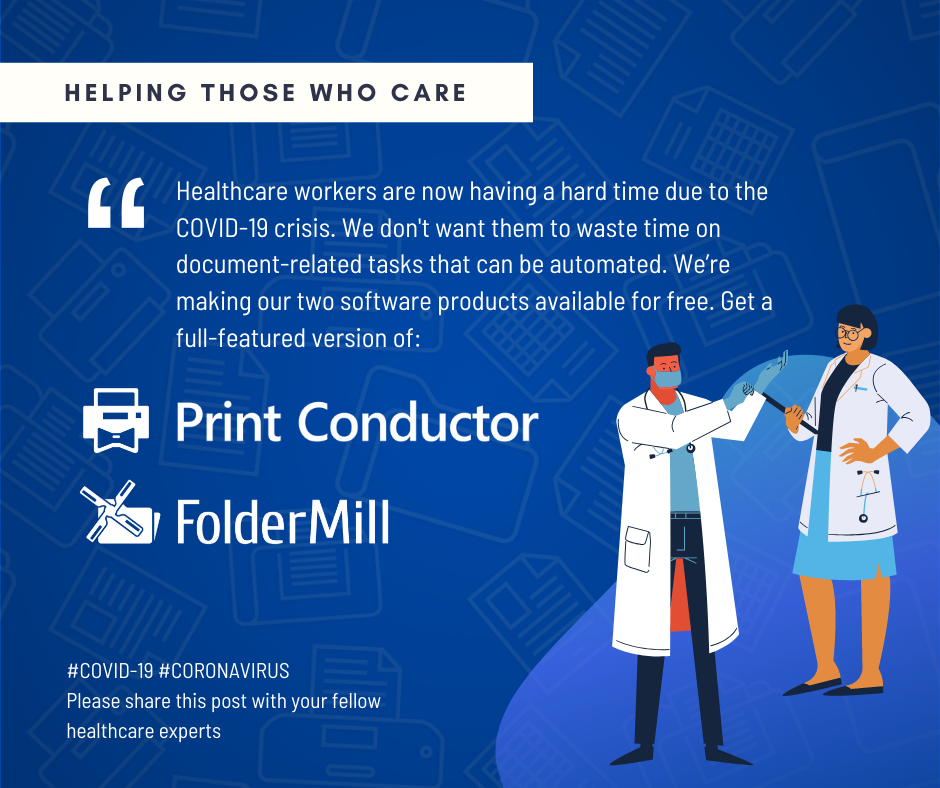 Print Conductor is already being used by many healthcare centers, hospitals, and other medical organizations since it helps them simplify printing on Windows. It saves much time allowing to quickly print documents in batches: reports, invoices, evaluations, correspondence, files generated by medical equipment, instructions, DICOM images, and many more. 
FolderMill, working via so-called Hot Folders, can save time even more by reducing the number of mouse clicks. Users will only need to drop files to folders after the initial setup of the program. FolderMil can work quietly and automatically perform various operations such as conversion to PDF, copying, watermarking, and more. It can be installed on a server or desktop PC.
We hope that we can help as many people as possible to start saving their precious time thanks to Print Conductor and FolderMill. If you know healthcare industry specialists who might benefit from this offer, please feel free to share this article with them.
Learn more about FolderMill at:
www.foldermill.com
Request free license and learn more about our campaign at:
www.fcoder.com/news/covid-19