We at fCoder are ready to present Print Conductor version 7.0 packed with new features. In the new version of the program, we've updated only two things: appearance and engine. In this news article, I'll tell you what we've got in the end. Let's jump in!
New Graphical User Interface
You might not notice it from a first glance, but the graphical user interface has totally changed. It is now based on a modern Microsoft WPF Framework. It lets Print Conductor 7.0 interface look visually appealing and behave just like any regular Microsoft Windows application that most people are used to.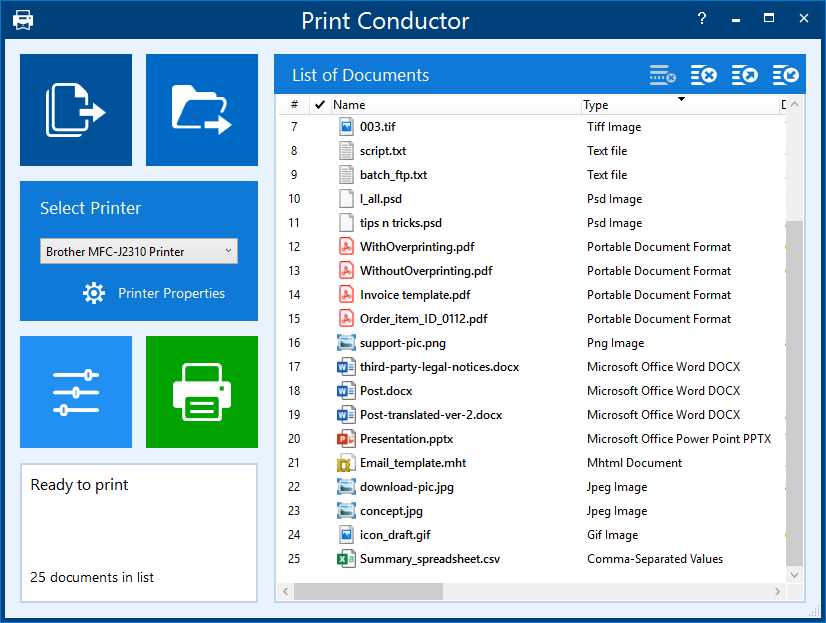 Importing & exporting files as well as sorting items in the List of Documents is much faster now. What is more, the new Print Conductor 7.0 will look equally good on standard, high-resolution, and 4K monitors.
New smart file processing core 
Our program has become smarter! We've re-built the document processing core. Now it automatically selects the most effective algorithm, depending on the file structure and selected preferences. When Print Conductor 7.0 accesses a specific file, it analyzes its contents and prints with the best settings (and time costs), whether it is a plain text file, CAD drawing, Excel chart, etc.
New Advanced Settings tab instead of INI file editor
We have designed a new easy-to-use Advanced Settings tab. Now you have more convenient control over all Print Conductor features and settings instead of using a less intuitive "old-school" INI file editor. Here's how the new tab looks like: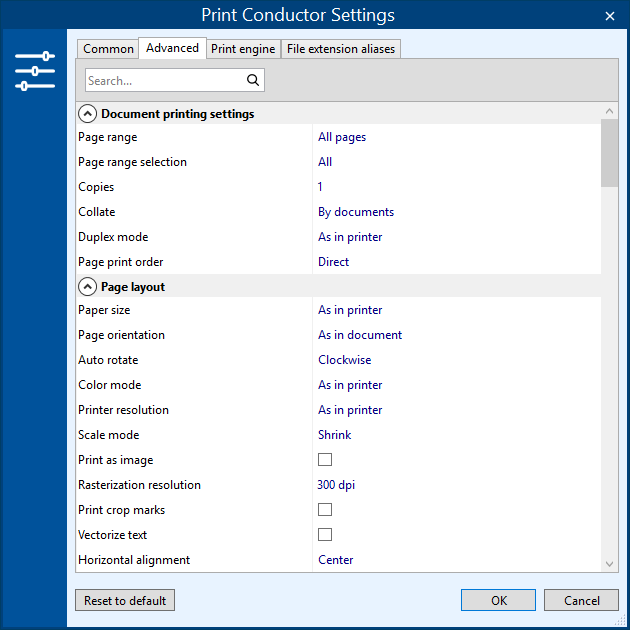 It's super-easy to browse through all the advanced settings divided by sections. Besides, you can now quickly find any setting – just start typing its name in the Search bar!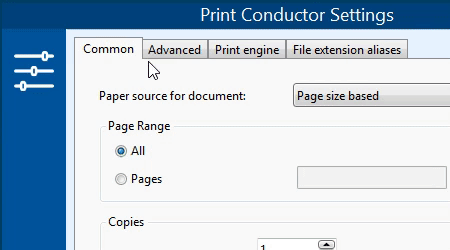 By the way…
Ready to master the Advanced tab? Jump in to check out our new How To section. There you'll find useful tips and guides on Print Conductor, including most of its settings. 
---
New e-mail message formats: Outlook Data File (.pst), Offline Outlook Data File (.ost), P7M (smime.p7m)
Our users highly appreciated Print Conductor's ability to quickly print Outlook MSG and EML files, including their attachments. Now we've added new components for Microsoft Outlook PST and OST files processing. These files contain your messages and other Outlook items that can be saved on your computer.
The program also supports P7M file types. It is an encrypted email message that has contents and attachments of a confidential or sensitive email. It usually looks like an "SMIME.ps7" attachment to the email.
Add e-mail messages to the list directly from Microsoft Outlook
Quickly add emails to Print Conductor from Microsoft Outlook! The program gets a new ability to drag messages from Microsoft Outlook folder ("inbox", for example) and drop them to Print Conductor's List of Documents.
New ways to handle e-mail attachments
You can now define how file attachments should be printed: after a document or before a document. You can also set the program to print e-mail attachments only or ignore them. There's also a new ability to sort attachments by name, date, size, etc. Sorting and handling attachments can be applied not only to Outlook MSG, EML files but also to PDF Portfolio files.
New supported medical file format: DICOM
Print Conductor 7.0 can help medical industry specialists with batch printing DICOM files (with file extension .dcm). DICOM (Digital Imaging and Communications in Medicine) is a standard for handling, printing, storing, and transmitting data in medical imaging. DICOM is most commonly used for storing and transmitting medical images.
---
Printing files in single print job mode
There's a new way to print all files at once – by sending them to a printer as a single print job. Bulk printing in the new single print job mode guarantees that all your documents will be printed in 100% correct order – the way you've set it.
What is more, you can forget about the situation when your printouts are mixed with those from other users in the office! Files sent by two users to the same network-shared printer will go as separate jobs. Thus, there will be no need to sort out the printouts manually.
Printing several pages of a document on a single paper sheet
The long-awaited ability to print several pages per sheet is now available! You can use Multiple pages per sheet feature to arrange two or more pages on a single sheet of paper and print. Once you've set the right parameters (number of vertical and horizontal pages, space between pages, etc.), just add your multipage documents into Print Conductor. And our software will do the rest, automating the printing process.
Adding page numbers and file names via text watermark
We developed a multi-functional Text watermark feature to Print Conductor. With it, you can add page numbers, a custom text, or add source file metadata using built-in templates. This feature can help you with pagination or creating your own watermark to be placed onto every printed page.
Sorting and printing list items by delivery time
We've added a new column to sort items in the List of Documents: Email delivery time. It indicates when an Outlook e-mail message was delivered (if it was). Using this column, you can, for example, sort e-mails so that they are printed in chronological order.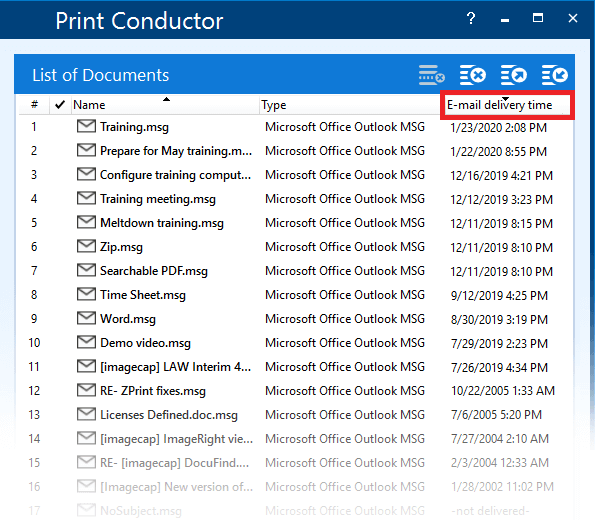 Print only specific worksheets of CAD or Excel files
If you often print CAD drawings or Excel spreadsheets – files containing sheets – you can now control which worksheets should be printed. That is, you can go to Settings > Advanced and find Worksheet name (under CAD format or Excel format sections). There you can set the desired option:
| | |
| --- | --- |
| *all* | Print all worksheets contained in a file |
| *default* | Print default (active) worksheet only |
| My worksheet 1 | Print a specific worksheet (by worksheet name, e.g. "My worksheet 1") |
Thus, you can set printing of all worksheets or only a default sheet of Excel XLS, XLSX, or AutoCAD DWG, DXF files. In addition, you can use Split worksheets setting. When it's on, the program will split the document when sending it to printer – each worksheet as a separate print queue item.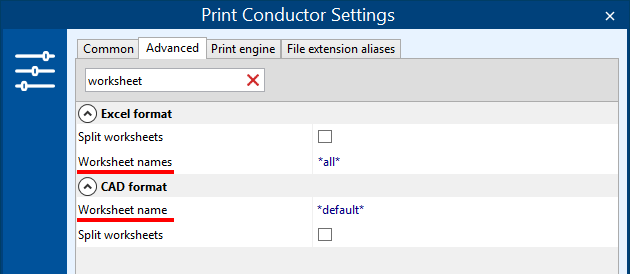 Ability to import a list of files from Microsoft Excel file
One of the new ways to load a list of files to the List of Documents is using a Microsoft Excel spreadsheet as a source. You can learn how to import files listed in an Excel file in our How To section.
Save current List of Documents when quitting the program
A small but handy feature if you always print the same set of documents – Print Conductor now prompts you to save the current list of files when exiting the program.

---
2x faster processing of Word and PDF files
We made performance tests on an average PC with Windows 10 and Canon iR C3000 Series printer. The print speed is now faster in version 7.0 compared to version 6.3 thanks to our new document processing core.
Print Conductor 6.3
time elapsed, mm:ss
Print Conductor 7.0
time elapsed, mm:ss
Portable Document Format (PDF)
Run 1: 05:17
Run 2: 05:23
Run 3: 05:20
_
Average: 05:20
Run 1: 02:10
Run 2: 02:09
Run 3: 02:35
_
Average: 02:18
Performance increased by:
2,3 times
Microsoft Word (DOC, DOCX)
Run 1: 05:14
Run 2: 05:29
Run 3: 05:22
_
Average: 05:21
Run 1: 01:53
Run 2: 02:30
Run 3: 02:15
_
Average: 02:12
Performance increased by:
2,4 times
Improved printing speed and quality of DWG and DXF files
We've improved the printing of DWG and DXF files via Print Conductor's internal engine thanks to the newly added component. Plus, Print Conductor is now compatible with the latest eDrawings Viewer 2020 and its API. It is used to process CAD files (SLDASM, SLDDRW, SLDPRT, EDRW, EDRWX, EPRT, EPRTX, and others). eDrawings Viewer is a free application mainly used for viewing various CAD drawings. If you have it installed, Print Conductor will let you batch print eDrawings and SolidWorks technical drawings.
Redesigned print estimation report and post-print reports
We've revamped some of our print reports. Now you and adjust them to your needs to get useful data on your batch print job activity. Reports provide various information on printing, such as the number of pages, filenames, and more. Thanks to them, you can estimate the amount of paper that you'll need before printing and get a summary after batch printing is complete.
Estimate the number of color and black-and-white pages
One of the significant changes to the print estimation report is the ability to predict the number of color and black-and-white pages before the printing process starts. See our How to Use Print Reports article to find out how to see these pages' numbers in print reports.
More individual settings for list items
We've slightly changed individual print settings that you can apply to a certain file or a group of files in the List of Documents. They now include:
Copies
Duplex mode
Page orientation
Page range
Paper source
Paper size
Color mode
Custom text
Additionally, we've introduced some new options that can be applied to various Common and Advanced Settings.
| | | |
| --- | --- | --- |
| Option | Applies to settings: | Description |
| As in document  | Page orientation | The program detects page orientation (portrait or landscape) of a document and uses it when printing. |
| As in printer  | Duplex mode, Color mode, Printer resolution, Paper size. | The program checks the current printer properties of a selected printer and prints files according to them. |
| Page size based | Paper size, Paper source for document, and more. | The program checks page size dimensions of a particular page and prints according to original page size. |
| The same as for document | Paper source for covers, Paper source for folder cover, Paper source for report. | The program checks which paper source is set for the documents and uses the same input tray for service pages. |
New HTML file processing engine 
We've enhanced the processing and printing of HTML files thanks to the new commercial Chromium-based engine. It is now included into Print Conductor's document processing core.
Reduced number of data requests to printer
We've made Print Conductor send fewer data requests to your printer in order to reduce the workload and make interaction with printer more stable. 
Previous versions of the program changed print settings directly in the printer driver settings via the Windows API. That is, they changed the default printer settings for the current user. The document was sent to the print queue, and then the printer settings switched back to defaults.
Real-time back-and-forth switching of printer properties (depending on the settings of each document) could make things not as expected. The print settings just did not have time to apply to a file correctly. As a result, specific settings could even be applied to the wrong file. Or, for some corporate users with complicated security policies, such switching of printer properties simply did not work.
Now Print Conductor 7.0 has a different approach. Printer properties set by a user are now used as default print settings. They can only be changed if a user changes them via the Printer properties button:
If settings applied to a certain document do not coincide with the default print settings, the program will automatically select one of two options:
automation settings of the application responsible for printing this or that type of document will be changed (for example, parameters of Microsoft Word for DOCX)
if the latter is not possible, the document will be exported to PDF, and the necessary settings will be applied only to the current document when generating a print job.
Data requests optimization
What is more, the number of real-time data requests performed by Print Conductor has been reduced. As a result, the program works faster and more reliable, without interfering with your printer's work too much.
Improved PDF Portfolio files processing algorithm
Along with other stability and performance improvements and fixes, we've refined our algorithm of processing PDF Portfolio files. Now it works better.
---

Print Conductor came to life 13 years ago as an internal benchmark for virtual printer software.
Back in 2007, we officially released version 1.0 as a free solution. Many people liked Print Conductor, and since then, we've constantly added and refined features to stay ahead of our customer's needs.
Today Print Conductor has evolved to become a professional software solution for multiple companies and users around the world. They can do incredible things every day without wasting time on routine printing tasks.

---