The software company fCoder has developed several software tools to completely automate the printing of PDF files and other office documents. They can help you save much time if you don't want to go through a tedious process of running a file's application, opening each document and clicking through the print dialog windows.
Bulk printing software
For businesses that print many documents, Print Conductor is a powerful software tool developed to batch print multiple documents without opening them. This intuitive and simple tool is designed for automatic printing of PDFs, images, and other data.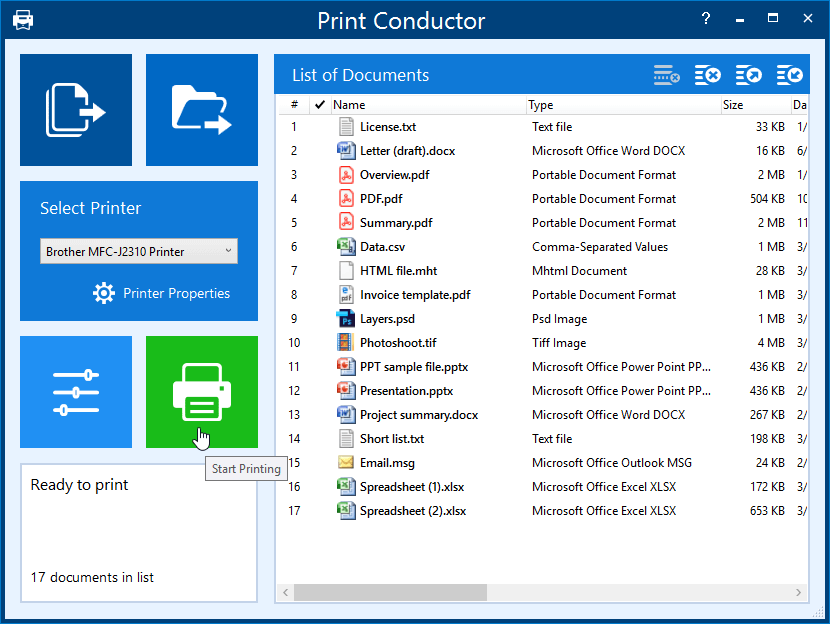 Print Conductor automatically batch prints nearly any printable file, including many standard graphics filetypes (JPG, PNG, TIF), office documents (PDF, Word, Excel), and more. Users no longer need to open each file and print it, which takes time and is inefficient. With Print Conductor, you just add all files that need to be printed, including PDF and Microsoft Office formats, and all the documents get automatically printed.
Print Conductor is compatible with all types of printers, including local, network, and virtual ones. Print Conductor also works with a whole lot of filetypes such as AutoCAD, HTML, images, and of course, PDF and Office files.
Auto print PDF files from folders
Another software tool, FolderMill, makes the printing of files even faster. Through the use of monitored "hot folders", users can print a wide variety of file formats. When a Print Document action is set to a "hot folder", users simply place a document, or multiple documents, into this shared "hot folder" and FolderMill instantly carries out the actions assigned to it.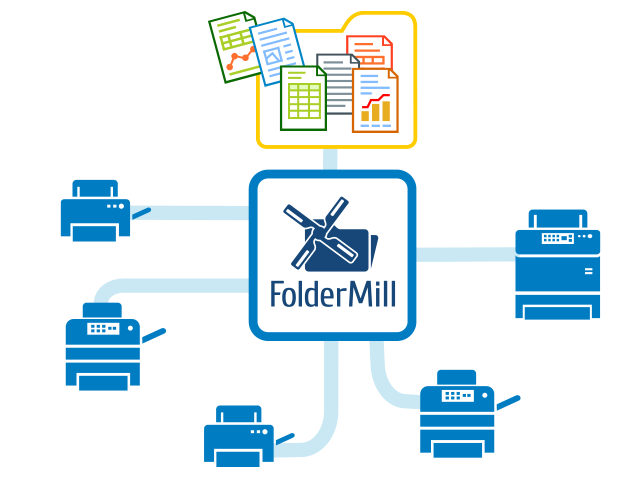 FolderMill allows printing to multiple printers simultaneously. For example, an employee responsible for printing invoices would place the PDF invoices into a "hot folder" FolderMill would then auto print the PDF files to any printer shared with the employee. Then they can drop some other documents into another "hot folder" in order to send them to another printer.
Automated file conversion
Besides, auto-printing from a specified folder, FolderMill can convert various file types into the PDF or image format. The program is very easy to use for end users after the initial configuration. All an employee needs to do is place new files into a "hot folder". Actions can be combined – for example, FolderMill can convert incoming images to PDF and can then automatically print new PDF files.
Command line document printing tool
fCoder developed a tool for system administrators and developers. It is called 2Printer. 2Printer is another powerful printing tool to auto print PDF and Office files. The main feature of 2Printer as a way to automate the printing of files via the command line interface.
Because of this command line functionality, it is especially popular among system administrators and software developers.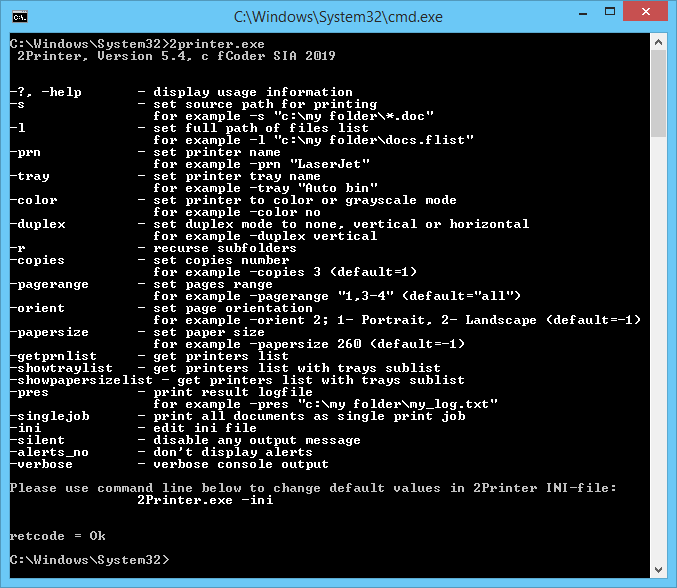 Like Print Conductor, 2Printer is compatible with all printers and the types of file formats supported is pretty much the same and can be used as Print Conductor alternative.
This software tool may even save your money when combined with Windows Task Scheduler. By configuring 2Printer together with the Scheduler, it is possible to:
run printing at night, when electricity is less expensive
set up user-unattended printing
automate printing from a list or a folder
Just imagine: your employees do not even have to be at work to auto print files. Your business can use 2Printer to print all documents required for the next day. When your employees show up for work, everything is printed and ready for use.
This saves time and is incredibly efficient, which, in the end, means lower overhead costs and more profit. Therefore, businesses can get more profit with 2Printer when PDF and Office files are auto-printed with minimal resources used.
To maximize efficiency and eliminate the possibility of mistakes, one can use all these tools together. With the features of FolderMill, Print Conductor, and 2Printer, your business can reduce costs, increase efficiency, and maximize the productivity of all employees.