If you had a situation when you had 100+ CAD drawings to print or plot, you would know the pain it feels to manually plot a large number of drawings. Fortunately enough, there is batch printing and conversion software to batch plot all your drawings at once and save your time.
If you have a massive load of drawings which must be sent as a hard copy to a client, architect or engineer on a Friday afternoon, and you don't want to spend much time going through many AutoCAD batch plot settings, all you've got to do is just use Print Conductor.
Batch print CAD drawings step-by-step
Print Conductor allows you to quickly batch print or plot a series of DWG or DXF files to selected printers or plotters. To print AutoCAD and SolidWorks drawings (.dwg, .dxf, .slddrw, etc.), please do the following:
Download and install Print Conductor;
Download and install free eDrawings Viewer;
Add the files you need to print to the list of Print Conductor;
Select printer or plotter and click Start Printing.
Supported formats and printing devices
Print Conductor can automate printing many CAD files created by AutoCAD, SolidWorks, and other software:
Autodesk AutoCAD DWG, DXF;
Autodesk Inventor IDW, IPT, IAM, IPN;
Design Review DWF, DWFX;
eDrawings EPRT, EDRW, EDRWX, EASM, EASMX;
Hewlett-Packard Graphics Language HPGL, HP, HPG;
MathCAD or MathCAD Prime MCDX, XMCD;
Microsoft Visio VSD, VSDX, VSDM;
Plot file PLT;
ProEngineer PRT, XPR, ASM, XAS; STL, CALS, 3DXML files;
Solid Edge DFT;
SolidWorks SLDDRW, SLDPRT, SLDASM;
and more.
The program can also print PDF, XPS, HTML files, images, plain texts, Microsoft Office and OpenOffice documents – all in batch mode.
Print Conductor is compatible with any printers and plotters connected to your computer via USB, Wi-Fi, or local network. Besides, it's possible to use Print Conductor in combination with a virtual printer, thus making it possible to automate converting documents and drawings to PDF or image files.
How to print only active sheets of DWG files
With Print Conductor advanced settings, you can select which sheets should be printed. For instance, there are two sheets: 1) layout sheet and 2) model sheet. If you need to print the active sheet of the DWG file only (layout sheet in our case) – please do the following:
Open Print Conductor and click Ctrl+Alt+i to open the Ini File Editor;
Change WorksheetName variable value to: WorksheetName="*default*";
Click OK and Start Printing.
Publishing multiple drawing sheets to a single multi-page PDF
Another option is just to publish a set of drawing files to a single multi-page PDF file. After that, print it to a printer or plotter via the standard print dialog. And that's it. This way, you can print multiple drawings saved as PDF and keep the digital copies on your hard drive at the same time.
How to batch convert DWGs to PDF
If you want to print many CAD drawings as one file, you should save multiple DWG drawings to a single file beforehand. So first, you'll need to combine the drawings into one multi-page PDF document. This way, you can control in which order drawings and documentation pages are printed and avoid a situation when print jobs get mixed together – when different people print at the same time on the same printer. To create a PDF, which would contain all your layouts within one file, you can use these methods:
DocuFreezer
Add drawings to the list of DocuFreezer;
Set Output file type to PDF;
Go to Settings;
Select Multipage: Merge into one PDF:

Click OK and Start to begin merging all files to PDF
Print Conductor & Universal Document Converter
Add drawings to the list of Print Conductor
Select Universal Document Converter as printer
Open Printer Properties
Go to File format > Select PDF document > Append files to an existing PDF
Click OK
Click Start Printing.
Also, check that File name in the Output Location pane is not set to macro (enter it manually, e.g., Combined.pdf):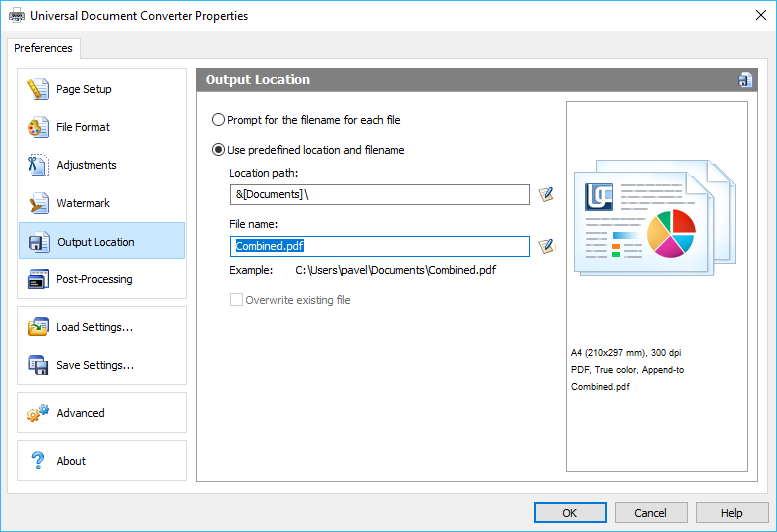 How to print DWG, DXF and other CAD formats without AutoCAD
There is no need to have expensive AutoCAD or SolidWorks software systems installed to be able to batch print DXF, DWG, and other CAD filetypes. As an alternative, all you need to have is a free CAD file viewer like the eDrawings Viewer as an addition to Print Conductor software, and it will do the job without any problem.