Although design bureaus use electronic resources to create technical documentation, the necessity to print it is quite frequent. Printed materials are normally easier to evaluate, and visualizing the printed technical documentation is easier on paper rather than on the computer monitor.
There are several requirements set to printing technical documentation: accuracy in data interpretation; support for specific technical formats; batch mode printing ability.
Print Conductor can automate printing a large number of documents created by AutoCAD and SolidWorks. The program can also print PDF, XPS, HTML files, images, plain text, Microsoft Office and OpenOffice documents - all in batch mode.
To print AutoCAD and SolidWorks drawings (*.DWG, *.DXF, *.SLDDRW, etc.), please do following:
Download and install free eDrawings viewer
Download and install Print Conductor
Add the files you need to print to the list of Print Conductor
Select printer or plotter and click Start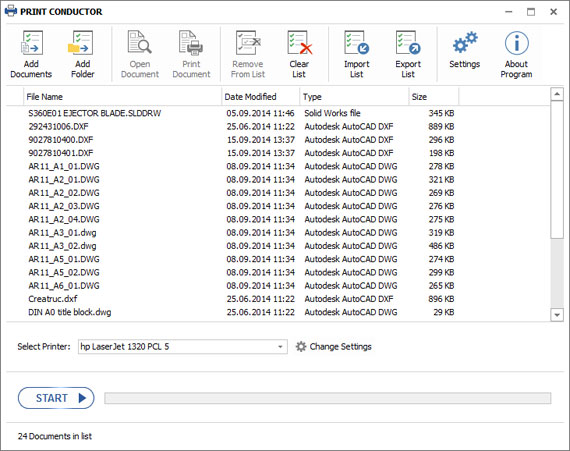 Print Conductor is compatible with any printers and plotters connected to your computer via USB, Wi-Fi or local network.
Besides, it's possible to use Print Conductor in combination with a virtual printer thus making it possible to automate converting documents and drawings to PDF and image files.