This article describes how to use and set up reporting in Print Conductor in order to get useful statistical data on your print jobs. Thanks to three types of built-in reports, you can analyze your print activity and paper costs.
Before printing: Print estimation report
Before a batch print session starts, you can estimate how much paper will be needed. The Print estimation report is a preliminary report dialog, which:
predicts the quantity of paper that will be used;
displays document names;
shows all document types;
calculates the total number of pages.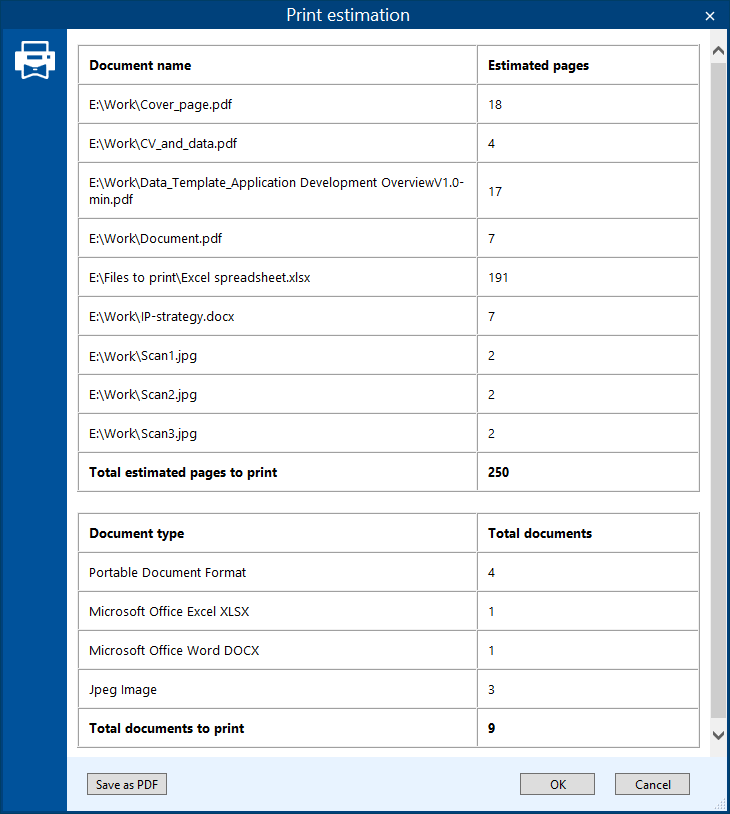 Using this Print estimation report, you'll know:
What documents and document types will be printed; 
How many pages are estimated to print;
How much paper will be used.
To enable this feature, go to Settings > Advanced and check the Show print estimation report setting:

By the way...
In previous versions of Print Conductor, this feature is known as the Pre-print report.
Adjusting the Print estimation report
In the Statistics section of Advanced settings, you can slightly modify the reports.
1. Show number of color and B/W pages ☑
How many color and black-and-white pages will be printed in the current session? You can adjust the Print estimation report to additionally show this information:
Thanks to this setting, you can learn beforehand which pages are color or black-and-white and consider the printing costs involved! This report can also be saved as a PDF – click the Save as PDF button. 
2. Show exact number of pages ☑
Print Conductor accesses every file within a List of Documents to retrieve information about it. It checks the number of pages contained in each file. By default, this process is quick, and the number of pages might be incorrect. If you want to see the 100% the exact number of pages, check the setting Show exact number of pages:

When this setting is on, the report generation and checking the number of pages will take longer.
---
After printing: Detailed report
You can get a brief summary – Detailed report – after the print session is over. Click the Show detailed report button when the "Job is finished" dialog window appears.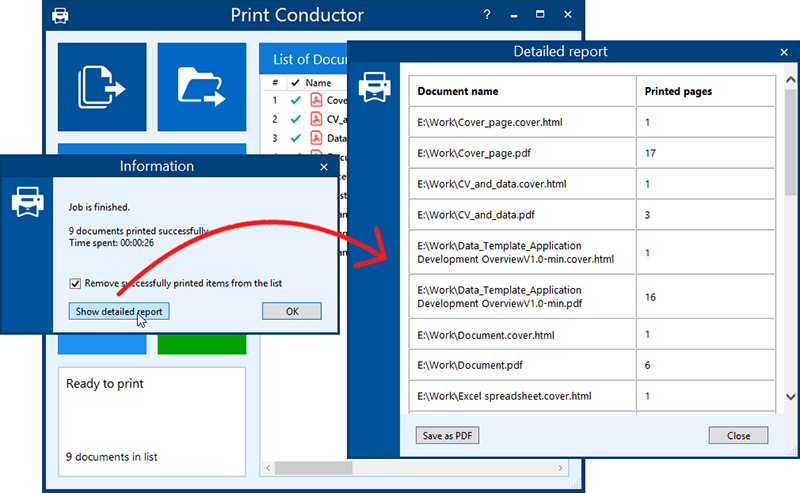 The Detailed report page can also be saved as a PDF. 
Types of detailed report
In the Settings > Advanced > Statistics, you can select between three types of detailed reports:
| | |
| --- | --- |
| Type of report | Description |
| Summary | The standard detailed report, set by default. It contains document names & types, printed pages, and total printed documents. |
| Summary without pages | The standard detailed report, but without information on printed pages. |
| Summary on each folder | A brief summary of files from different folders, including folder paths and document names. |
To select a type of detailed report, go to Settings > Advanced > Detailed report type: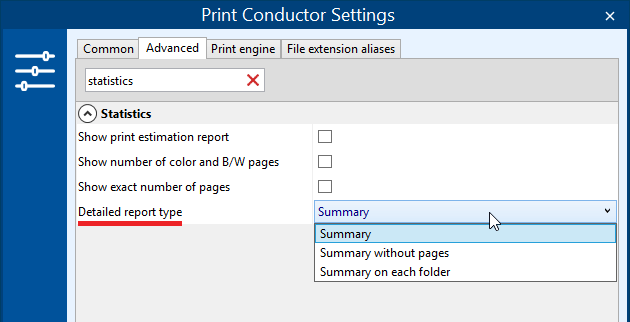 Are you working from home and buying printing consumables like paper and cartridges on your own?
With Print Conductor's Detailed report (Summary) enabled, you can log all document names and a total number of printed pages.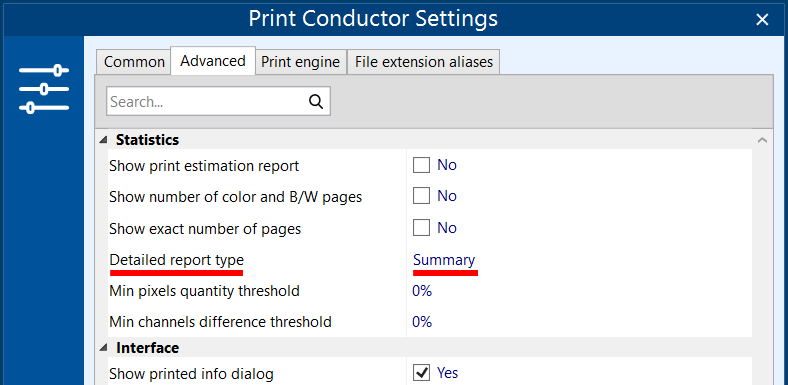 After a print session, click the Show detailed report button and save the report as a PDF. Then just send it to your company's accounting department! It can be an easy way to report your print-related costs and get compensation.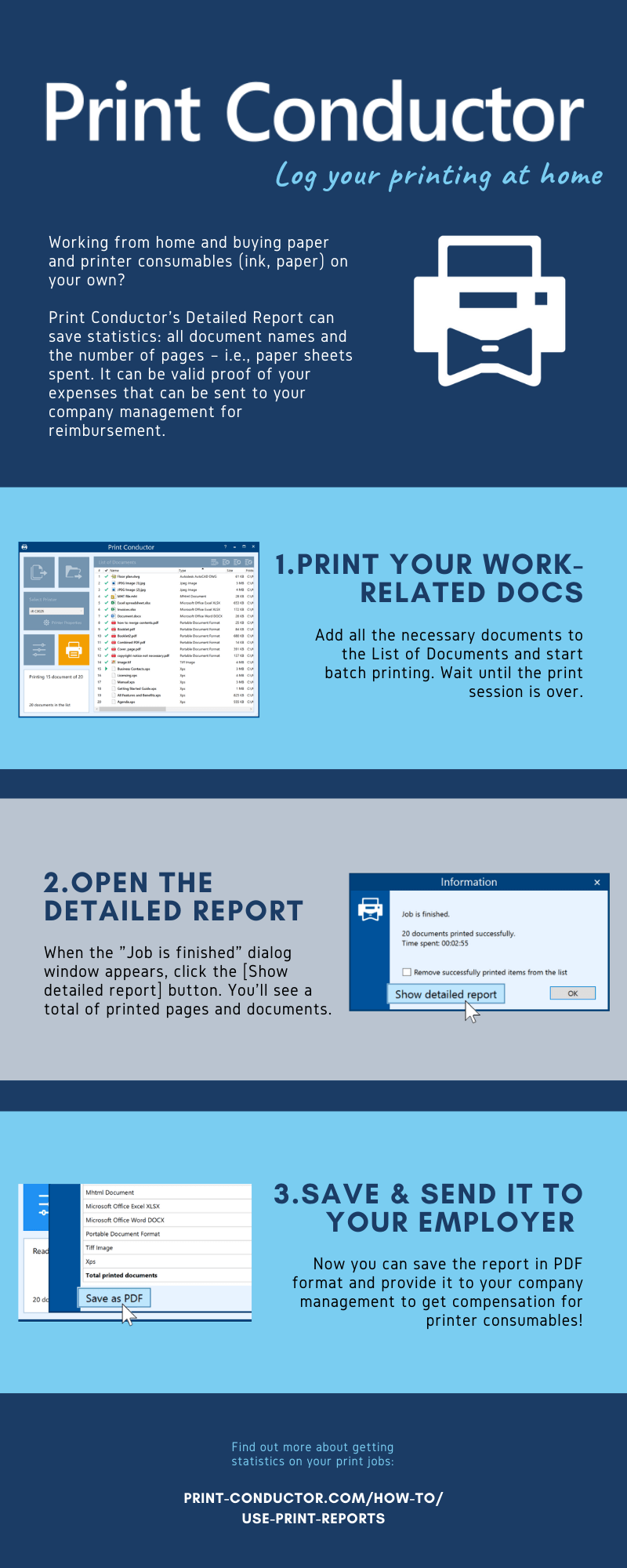 You can open the Detailed report in the middle of a print session. To turn on this ability, enable a new interface option Show pause dialog:

When batch printing is paused via the Pause button, you can see how many documents were already printed so far. Plus, in the appearing dialog, you can open the Detailed report and view statistics on total printed documents and pages.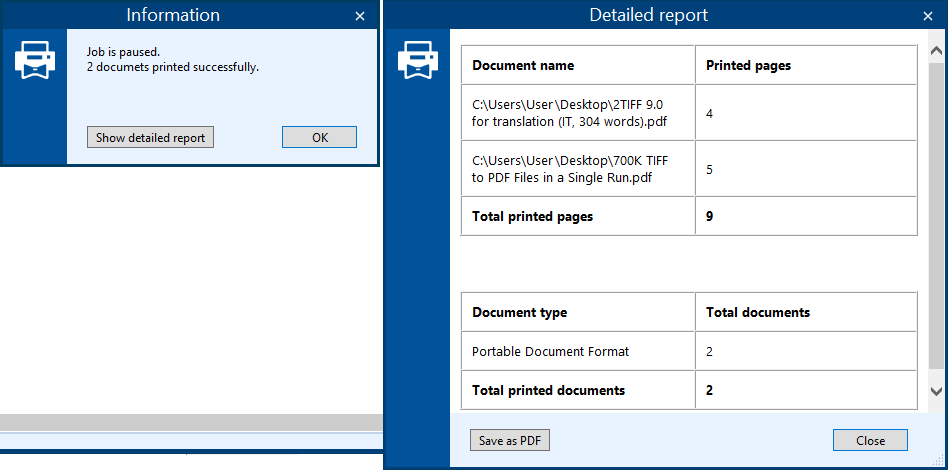 ---
After printing: Report page
You can set Print Conductor to print a post-print report page along with your documents. In this case, an extra page will be printed: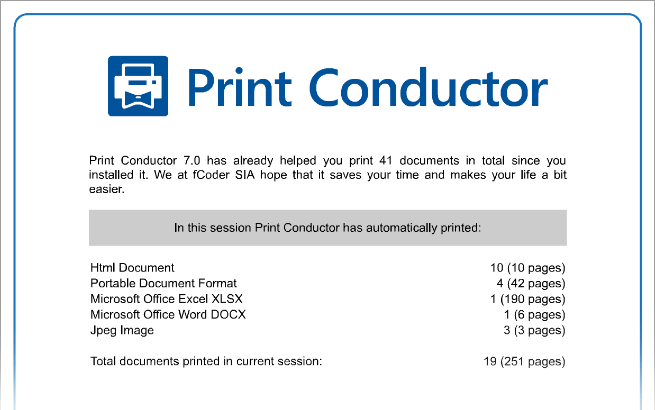 It shows the total number of documents printed in batch mode via Print Conductor since the installation of the program. It contains a chart with all types of documents successfully printed in the current session and their quantity.
By the way...
When printing with Print Conductor, you can estimate paper costs using built-in print reports – but this works only for files processed by this app. To log all printing in the office regardless of the software used and remotely watch all printers, check our another solution – PrintVisor.
To turn on printing of report page, check the Print report page checkbox at Settings > Common > Service pages: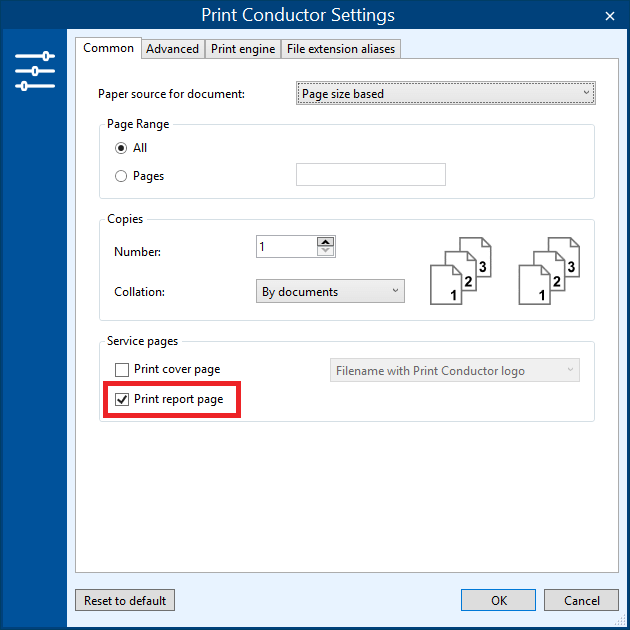 Note 
The report page cannot be disabled if you're using the free evaluation version of Print Conductor. Having a commercial license, you'll be able to uncheck this option.

Set paper size and paper source for the report page
For the report page, you can set a specific paper size as well as select a paper source (input printer tray). 
Learn how to set paper size for service pages →
Learn how to select paper source for service pages →
---
See also
How To
Get other useful guides on using Print Conductor and see many other useful how-tos, solutions, tips & tricks on effective batch printing. You'll find out how to import & export files, manage print lists, configure document and page settings, set up service pages, and so much more.