Learn how to easily install and activate Print Conductor on your home PC or in an office environment.
Trial version and commercial version
The trial evaluation version of Print Conductor is a full-featured version of the program for evaluation or non-commercial purposes only. Please note that the trial version generates a report page for every print session and will prompt you to purchase the commercial license after printing more than 300 documents.
Benefits of using the commercial version →
About installation
To install the commercial version of Print Conductor, download and open the installation file received via e-mail after the purchase. If you want to test the program in advance or use it for non-commercial purposes, you can download the trial version and try it out for your needs.
Installation on workstation
A single license lets you install, activate, and use Print Conductor on one workstation. You may have one, or several Windows user accounts on this workstation, and a single license allows you to use Print Conductor under all of these accounts. 
Installation on server
If you install & activate Print Conductor on a server, one activation works for a single user account only.
Legal information
During the installation process, you will be prompted to read and accept the End-User License Agreement (EULA). 
End-User License Agreement (EULA)
Read the Print Conductor License Agreement →
Privacy Policy
Read the Print Conductor Privacy Policy →
Installation and activation 
Product activation is needed to verify that a genuine license copy of the program is used. It works by verifying the authenticity of the license key. It ensures that a license key being used does not exceed a valid number of installations. The activation process is quick and straightforward. 
Note
You must have administrator privileges to install Print Conductor and complete automatic or manual activation.
Please make sure you have sufficient rights or contact your administrator for assistance. Click OK to confirm and continue the activation process.
How to activate Print Conductor automatically 
The easiest way to activate your original license copy is by using automatic activation. 
After getting a commercial version of Print Conductor, you will receive a download link to the full version of the program and a unique Serial Number (license key). Follow these steps:
Download and double-click the installation file;
Select setup language and follow further instructions;
Enter your Serial Number (license key) obtained after the purchase and click OK:

Please read and accept the License Agreement, specify a folder where Print Conductor should be installed. Click Next.
Select additional tasks before the installation. You can keep all checkmarks "as is" or uncheck them. Click Next.

Wait until Print Conductor is successfully installed.

Once the installation is complete, open Print Conductor. At the first launch, you will see a dialog window on product activation:

Click Next to let the program get the activation code and perform activation.
Once the activation is complete, you'll see this dialog window. Click Finish to complete activation: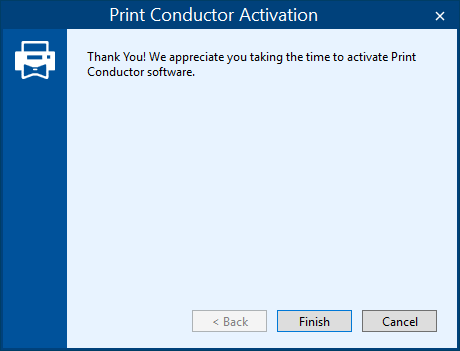 Congratulations, activation is complete!
How to activate Print Conductor manually
In some cases, automatic activation is not possible. For example, there's a security policy in your company preventing you from automatic activation, your PC is connected to the Internet through a firewall, or your Internet connection is disabled, or you lack the necessary privileges (access rights), or there's any other reason. In this case, please activate Print Conductor manually using a webform. Follow this instruction:
Follow the first 6 steps of the automatic activation process;
When the activation wizard prompts you to select the activation method, select Enter activation code manually and click Next:

Click the link to the webform below the Authentication Number or go to activation.fcoder.com using your browser:

Copy your Serial Number and Authentication Number and paste them in the corresponding fields and click the Get Activation Code button:

You will get the activation code on the next page. Copy it, switch back to Print Conductor and paste it into the Enter generated Activation Code dialog window. Click Next. Your activation process will be completed shortly.
Uninstallation
To uninstall Print Conductor, follow these steps:
In the Windows Start menu, select Control Panel or Settings > Control Panel;
Select Programs and Features or Programs > Uninstall a program;

Select Print Conductor, then click Uninstall:

Follow the on-screen instructions to complete uninstalling Print Conductor from your system.
Deployment of Print Conductor in the office
You or your system administrator can "silently" install, activate or uninstall the program without extra dialog windows. This can be a great time saver for automatic deployment of the application on multiple PCs in an office environment. It can be done via a command line tool such as Command Prompt or PowerShell.
Learn how to deploy Print Conductor in silent mode → 
---
See also:
How To
Get other useful guides on using Print Conductor and see many other useful how-tos, solutions, tips & tricks on effective batch printing. You'll find out how to import & export files, manage print lists, configure document and page settings, set up service pages, and so much more.