The activation process protects the product from illegal copying and distribution. It also ensures that you are using an original licensed copy of Print Conductor.
Activation Overview
fCoder SIA is committed to protecting intellectual property rights, preventing software piracy and illegal distribution of software. Unlicensed software installed on your network may harm not only the software manufacturer but also the reseller, the support provider, and you, the end user. Original software by fCoder SIA guarantees high-quality product and provides legitimate channels of software distribution.
Product activation works by verifying the authenticity of the product key and ensuring that it is not being used for multiple installations. The authentication number sent back to your machine includes the checksum of the Hardware ID and of the User ID. No personal information is collected or disclosed during the activation process. The activation code simply unlocks authorised use of Print Conductor on your user account. Activation is quick, simple and does not disclose your personal information in any way.
Once you obtain your licensed copy of Print Conductor, you will receive a download link to get a full version of the program. Download the setup file and double-click it to install Print Conductor. Follow on-screen installation instructions. When the installation is complete, you will be prompted to enter a unique Serial Number (license key):

Enter the serial number you were provided with after purchasing Print Conductor and click "OK". Please read and accept the License Agreement, specify a folder where Print Conductor should be installed and start installation. Once the installation is complete, open Print Conductor. At the first launch, you will see a dialog window on product activation: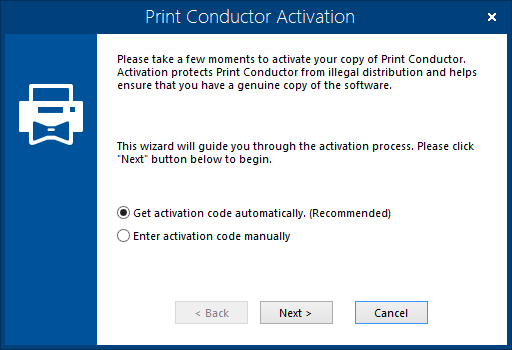 Please activate your copy of the software by getting activation code automatically or enter activation code manually by selecting either of the options:
Automatic Activation
Manual Activation
How to automatically activate Print Conductor
Activation Wizard window appears when you start Print Conductor for the first time.
Select "Get activation code automatically" and click "Next". The Activation Wizard will connect to fCoder activation server. In most cases automatic activation does not last more than 2 seconds: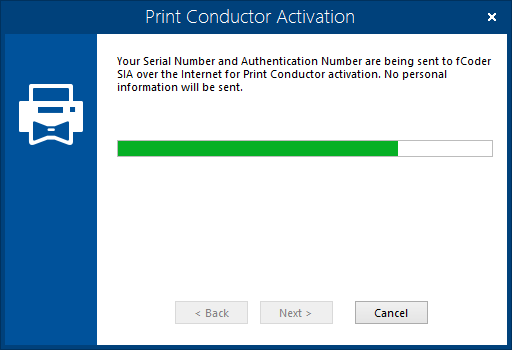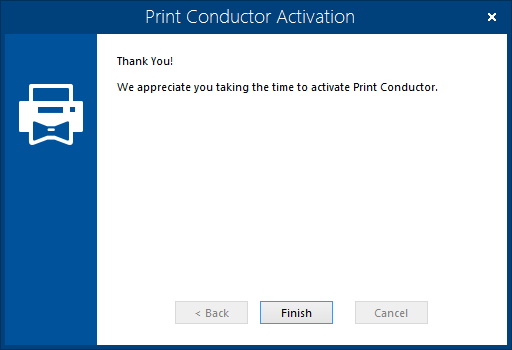 How to manually activate Print Conductor
Sometimes automatic activation is not possible. For instance, this may happen if your computer is connected to the Internet through firewall, or if your Internet connection is disabled, or if you lack necessary access rights, or due to any other reason.
If you are unable to activate Print Conductor automatically, please use a web-form.
Learn how to activate the software manually below.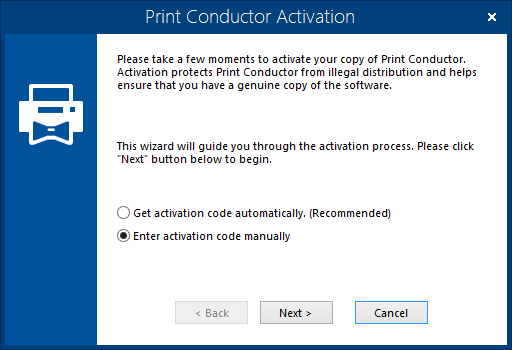 Select "Enter activation code manually" and click "Next".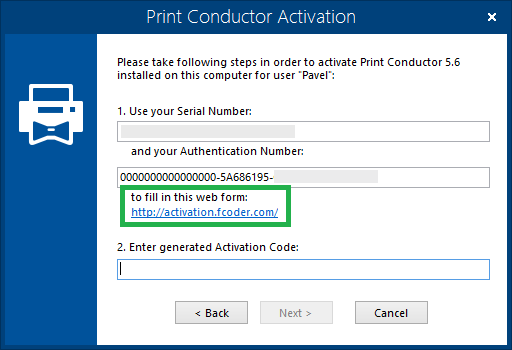 Click the web form link below the Authentication Number or go to https://activation.fcoder.com/ using your browser.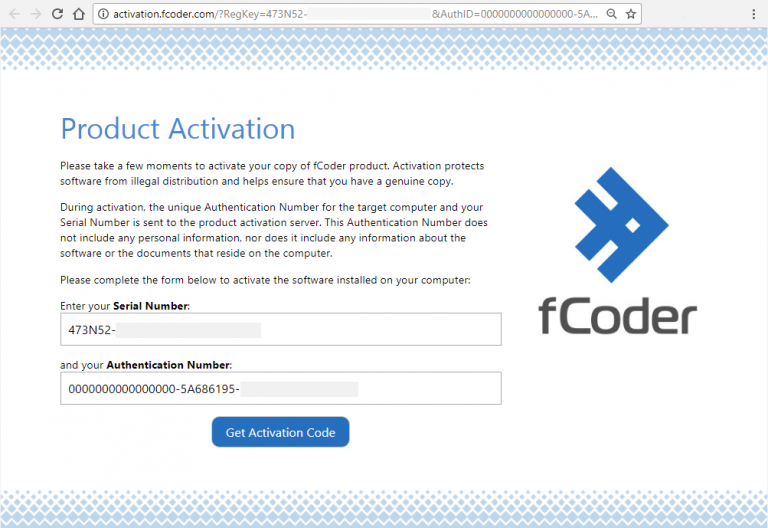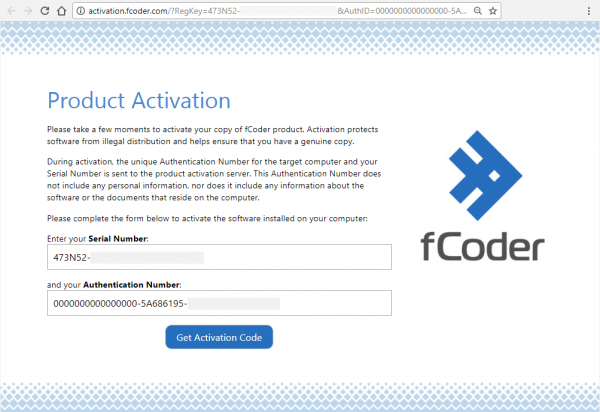 Enter your Serial Number and Authentication Number in the corresponding fields and click "Get Activation Code".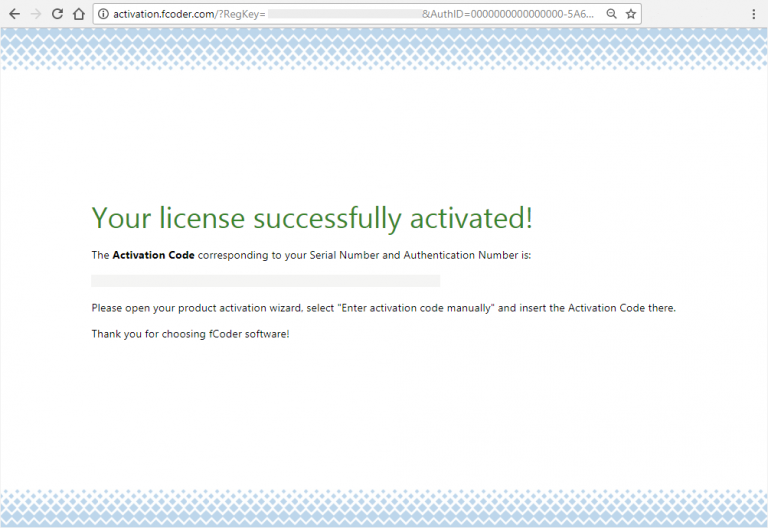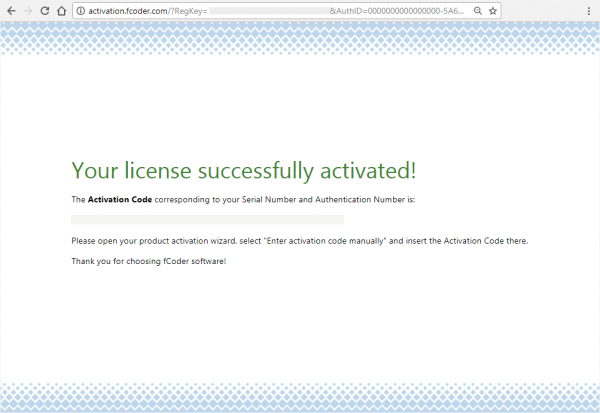 You will see the activation code on the next page. Copy it, get back to Print Conductor and paste it into Print Conductor's dialog window ("2. Enter generated Activation Code"), then click "Next". Your activation will be completed in a short while.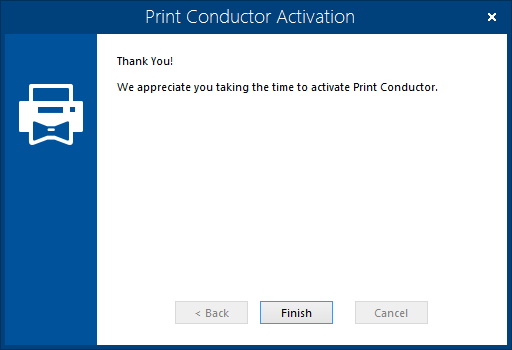 Press "Finish" button to finish activation.
If you replace your computer with new hardware, Print Conductor may recognize it as a different PC. You may have to reactivate Print Conductor. Should this occur, please contact our support service to reactivate the software.