What's new in Print Conductor 8.0:
New features:
Localization to Swedish and Arabic
Improvements for CAD drawings:
Compatibility with the latest eDrawings Viewer 2021 and its API
Printing all worksheets of SolidEdge drawings and not only the default one
Ability to use CorelDraw SE API for printing CorelDraw files
Improvements for email message files:
New and improved component for processing EML and MSG files
Improved collecting information for processing Outlook EML and MSG files
Fixed issue with attachments' order (Unsorted option)
Fixed issue with printing MSG file attachments multiple times
Other improvements and fixes:
Fixed detection of color pages
Fixed issues with Color and Grayscale printing options
Ability to print images with incorrect resolution value
Fixed issue in HTML files encoding detection
Fixed XML files processing
Fixed text watermark rotation
Fixed issue with long lines when processing text files
Fixed issues with page orientation and splitting Excel worksheets
Fixed issue with pages counter when Acrobat Helper is used
Fixed issue with importing a list of file paths from an Excel file
Fixed issue with importing a list of file paths from a text file
Fixed minor issues with Post processing actions
Fixed minor issues with Single Print Job mode
Ability to process PDF pages with 180-degree rotation tag
Fixed issue with printing JPEG images in As is scale mode
Fixed issue with Print Conductor installation
Fixed issue with printing cover pages in Single Print Job mode
Improved UI elements
Improved Italian localization
Improved logging
Printing DOC, DOCX, and RTF files without Microsoft Word
Previously, you had to have Microsoft Word or OpenOffice/LibreOffice installed to batch print DOC, DOCX, RTF files. Now Print Conductor can handle these file types on its own without Microsoft Word or other programs installed!
Besides, Print Conductor 8.0 processes ODT, SVG and MHT files without the need to install OpenOffice or any other additional software.
See the full list of supported file types
Printing EML, MSG message files without Microsoft Outlook
Thanks to the new processing component, the new Print Conductor can now print EML, MSG Outlook message files without third-party software – using the internal engine only.
Redesigned Advanced Settings panel with options to export/import current settings
The new Print Conductor 8.0 has got enhanced user interface elements such as buttons, menus and dropdown lists.
The interface was slightly reorganized with a new toolbar where you can reset or save/load all the program's settings using Export and Import buttons.
We've also added tooltips with a short description for each Advanced setting.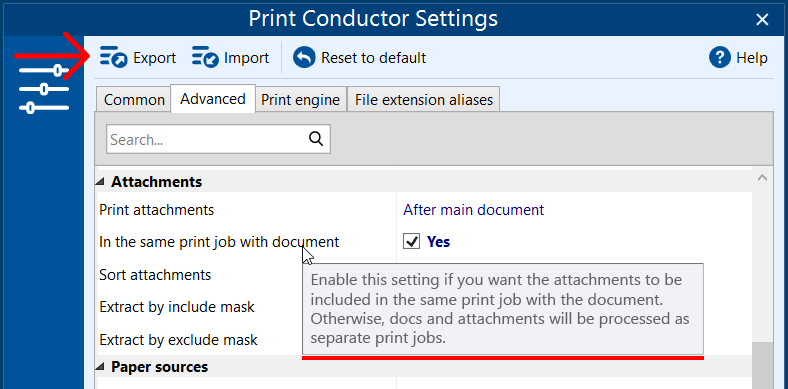 Ability to set paper source for a specific page range of a document
Now you control switching between printer trays more effectively – by changing the paper source for selected pages. This can be useful, for example, if you need to print one part of a document with one type of paper and another part – with another.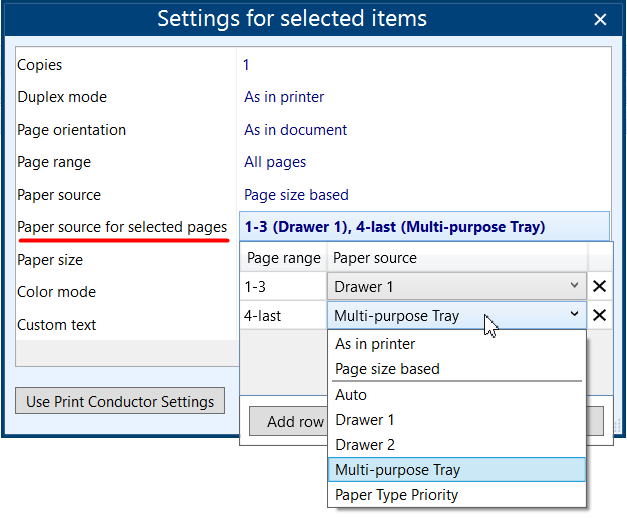 Ability to skip repeated pages of documents
Now it is possible to avoid printing the same page more than once, for example, if you specified overlapping page ranges. To use this feature, enable Skip repeated pages in the Advanced Settings.

Ability to reverse the order of files in the List of Documents
Now you can switch the order of items in the List of Documents to reverse with just a single mouse click! To use this feature, click the # column header.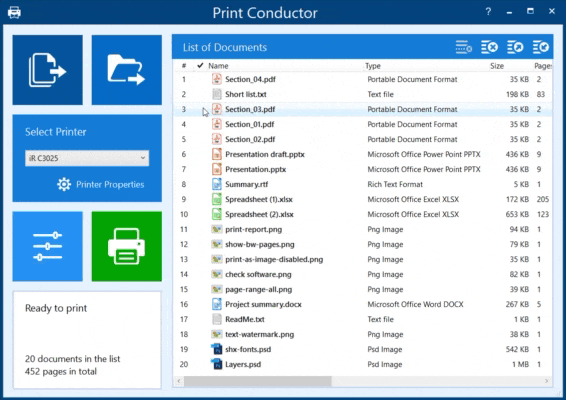 Ability to resume printing only when the printer queue is empty
When many files are going to the same printer, it may be hard to manage the printing process. Now there's a helpful feature to let Print Conductor print the following file only when the printer queue is empty. This way, you can:
Prevent out-of-order printing if Single print job mode is not an option for you
Give other users higher priority in the queue – and print something "in the background" via Print Conductor when the printer is idle.

Ability to process files without extension by checking their signature
With Print Conductor 8.0 you can easily print files without extension. That means, the program will "understand" it's a PDF even if a file doesn't have direct .pdf association. If the file's extension is missing, Print Conductor will try checking its signature and structure. If the file type is among the supported ones, it will be added to the List of Documents and printed without any issues.
Printing XML and HTML files as source code
Some users requested a feature to print XML and HTML as text containing source code instead of formatted pages – and we made it possible.
Ability to print HTML files in "fit to page" mode
New ways to scale HTML pages before printing are available. Now you can automatically fit their size by X- or Y-axis using Auto fit X and Auto fit Y settings.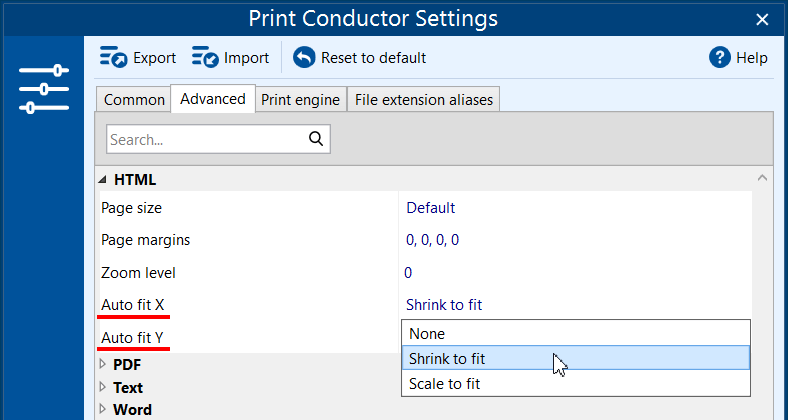 Ability to limit the number of copies in a print job
Sometimes the print job's size and the size of the spool file can get very large, which can slow down printing. Max copies per job setting allows you to limit the number of copies per print job. Quoting the tooltip, this feature "lets you split big multi-copy print jobs into smaller parts". So if your printing is slow, try this new feature.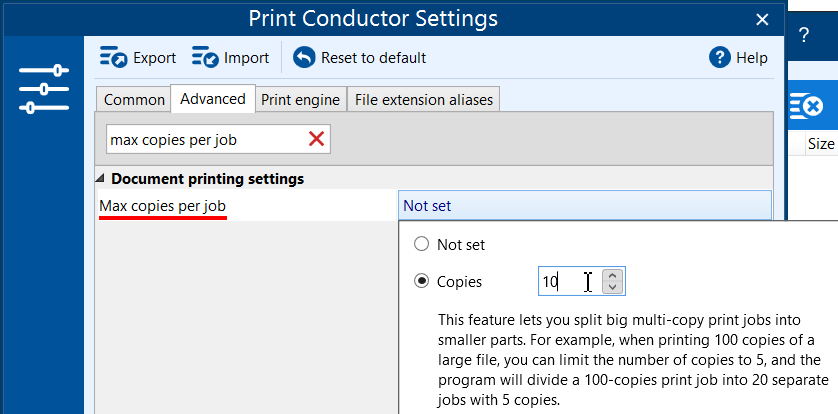 Ability to place watermark behind document's contents (Z-Order)
There's a new option to set the watermark position not on top of documents' contents but in the background, too. So if a watermark covers the text or image of a document, you can place it behind them.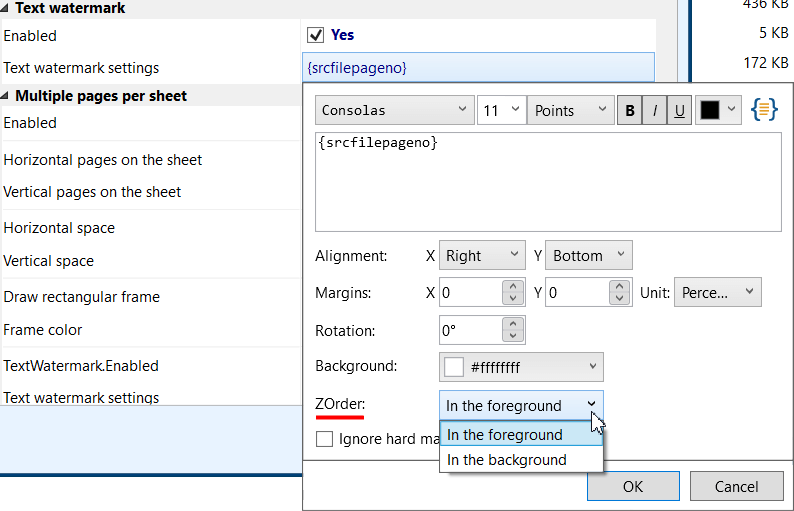 Ability to print a document and cover page in the same print job
Printing a document and a cover page in the same print job can be handy, for example, when you want to staple the cover page and the document together after printing. Also, it will ensure they are printed one after another. To use this feature, change this setting to Yes:
Service pages > In the same print job with the document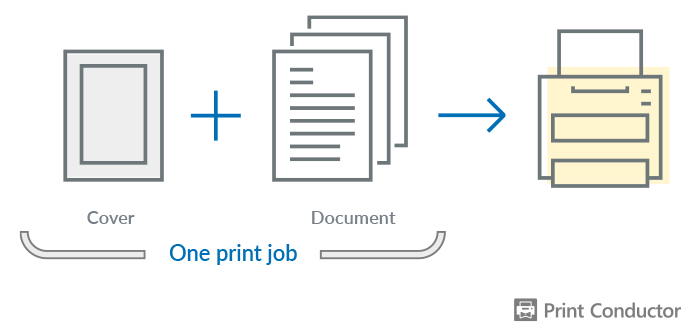 Ability to print an email message and its attachments in the same print job
Emails and attachments get mixed after printing? Fix this by combining them in the same print job. To enable this feature, change this setting to Yes:
Attachments > In the same print job with the document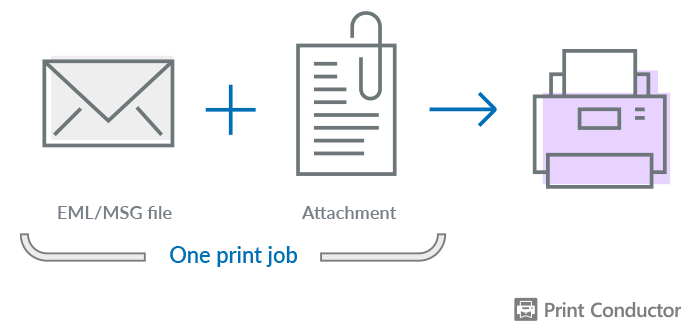 Now you know about all the improvements of version 8.0. We hope you enjoy the new Print Conductor with improved usability and new features. You can download the trial version using the link below, or, if you already have a commercial version, get this update at half price or for free.
---
How to get the latest version