Version 9.0 (August 28, 2023)
New and improved component for printing HTML files
New and improved CADLib component for printing DWG and DXF files
New and improved Microsoft Outlook PST files' processing component
Printing a cover page between the email and its attachments
New actions for "unknown" attachments: Ignore, Replace with placeholder, and Try to process
Defining the number of pages to print for each new print job
Setting print job names using any text or a template
Saving a file list (.FLIST) containing relative file paths
Quick preview of recently saved Print Conductor Settings file (.INI) when using the Import button
Exporting recent log files as a ZIP file, including current Print Conductor Settings
Saving a Detailed report on each print session as PDF to a user-defined folder automatically
Adding background image and text to documents listed in Excel using new Text watermark macro {customtext}
eDrawings Viewer version 2023 is now supported
Ability to disable printing "Not to Plot" layers of DWG and DXF drawings
New Display line weight setting available for CAD drawings
New Fonts to bold setting: ability to make font bold in texts of DWG and DXF files before printing
Fixed issue with Disable printing empty pages setting when processing MathCAD and DWG files
Fixed a CADLib issue resulting in missing encoding value in SHX font files
Increased processing speed of SolidWorks files
Only one instance of Print Conductor is now enabled by default under one Windows user account to prevent print settings from getting mixed
The email subject is now used as filename when Outlook emails are added to the List of Documents via drag-and-drop
Fixed a post-processing issue when printing files from ZIP archives
Fixed an issue where a list of files could not be loaded from XLS and XLSX files
Fixed an issue where several pages per sheet were being printed incorrectly
Fixed a color mode issue in Single print job mode
Fixed an issue where Data Matrix barcode shapes were not printed correctly
Fixed an issue where PLT file page size was not detected correctly
Fixed an issue where the cover page size was defined incorrectly
Fixed issues related to printing text- and image-based watermarks
Fixed issues related to importing and exporting watermark settings
Fixed an issue where date/time fields were not being displayed correctly when loading a list from an XLSX file
Fixed a total pages quantity calculation issue when handling a long list of files
Added the ability to define encoding for "old" LST files created by obsolete versions of Print Conductor
Improved UI localization
Version 8.1 (November 1, 2022)
New supported file formats: VCF, EMLX, STP (STEP), EPUB, PRN;
Printing XLS, XLSX and CSV file without MS Excel;
Barcodes and QR-codes as a watermark, adding multiple watermarks simultaneously;
Changing opacity for Image watermark;
New Preview pane in the List of Documents;
Selecting color mode (Color/Grayscale) for different pages or page ranges;
Skipping blank pages of documents;
Setting Scale mode for any file in the List of Documents;
Running Print Conductor with pre-defined Settings and pre-saved List of Documents;
Adding a multi-line text watermark;
New Text watermark macros: container name, computer name, user name, copy and copies;
Adjustable time delay before each new document is printed;
Setting initial folder for Add Documents and Add Folder buttons;
New Cover page Designer;
Ability to always insert cover page on the front side of the paper (in Single print job & duplex mode);
Saving & loading columns' configuration using restore points;
Setting printer name in the list of imported files (FLIST file);
Exporting a file list as a TXT file;
Using wildcards to import files via TXT file;
Batch printing web pages with the use of TXT file list;
CSV spreadsheet can now be used as a file list (FLIST);
Compatibility with the latest eDrawings Viewer 2022 and its API;
Ability to print EML and MSG email header on a separate paper sheet;
Ability to print XML files source code;
Reading HTML file encoding, if it is not specified in the HTML file code;
Ignoring attachments of unknown type by default;
Fixed an error with handling attachments if they have a sub-path in their name;
Fixed issue with the Move to folder post-processing action;
Fixed issue with printing PDF annotations marked "not for printing";
Fixed issue with printing Word documents with Envelope 10 page size;
Fixed issue with printing document folder name in Single print job mode;
Fixed issue with printing EML and MSG files attachments;
Fixed issue with dragging selected files in the List of Documents.
Version 8.0 (November 10, 2021)
Printing DOC, DOCX, and RTF files without Microsoft Word;
Printing EML, MSG message files without Microsoft Outlook;
Redesigned Advanced Settings panel with options to export/import current settings;
Ability to set paper source for a specific page range of a document;
Ability to skip repeated pages of documents;
Ability to reverse the order of files in the List of Documents;
Ability to resume printing only when the printer queue is empty;
Ability to process files without extension by checking their signature;
Ability to print XML and HTML files as source code;
Ability to scale HTML files by X and Y-axis;
Ability to set max. number of copies in a print job;
Ability to place watermark behind document's contents (change Z-Order);
Ability to print a document and cover page in the same print job;
Ability to print an email message and its attachments in the same print job;
Interface localization to Swedish and Arabic;
Compatibility with the latest eDrawings Viewer 2021 and its API;
Printing all worksheets of SolidEdge drawings and not only the default one;
Ability to use CorelDraw SE API for printing CorelDraw files;
New and improved component for processing EML and MSG files;
Improved collecting information for processing Outlook EML and MSG files;
Fixed issue with attachments' order (Unsorted option);
Fixed issue with printing MSG file attachments multiple times;
Fixed detection of color pages;
Fixed issues with Color and Grayscale color modes;
Ability to print images with incorrect resolution value;
Fixed issue in HTML files encoding detection;
Fixed XML files processing;
Fixed text watermark rotation;
Fixed issue with long lines when processing text files;
Fixed issues with page orientation and splitting Excel worksheets;
Fixed issue with pages counter when Acrobat Helper is used;
Fixed issue with importing a list of file paths from an Excel file;
Fixed issue with importing a list of file paths from a text file;
Fixed minor issues with Post processing actions;
Fixed minor issues with Single Print Job mode;
Ability to process PDF pages with 180-degree rotation tag;
Fixed issue with printing JPEG images in As is scale mode;
Fixed issue with Print Conductor installation;
Fixed issue with printing cover pages in Single Print Job mode;
Improved UI elements;
Improved Italian localization;
Improved logging.
Version 7.1 (October 19, 2020)
New supported file types: iCalendar (ICS), Adobe InDesign INDD, KOMPAS-3D, obsolete DOC and XLS;
New post processing actions: move, copy or delete files after printing;
New custom page zoom feature;
Printing headings of Excel spreadsheets;
Ability to change the TEMP folder for temporary files;
Keeping source files available for editing when printing;
Opening Detailed Report when the session is paused;
Importing files from selected folders at start-up;
Printing cover pages only;
Printing TXT files in "direct" mode;
Ability to set color background for text watermark;
New text watermark macro that adds item number in the List of Documents;
Ability to change print job name when printing in Single print job mode;
Using different input printer trays in Single print job mode;
Improved sorting of attachments;
Validation of printer status for each newly printed file;
Faster application launch;
Improved usability of List of Documents;
Improved logging system with XML format structure;
New and improved commercial components used to print DWG, DXF, and PDF files;
New "Reset item statuses" button in the List of Documents context menu;
Interface localization to the Turkish language;
Fixed page borders' defining when printing HTML files;
Fixed issue with printing documents from an uncompressed ZIP file;
Fixed issue with finding installed additional software used to automate the printing of certain documents;
Fixed issues with recovering settings of a printer set as default after Print Conductor's session;
Fixed issues with remembering printer name and settings for the next session;
Fixed issue with printing multiple copies of a document in the Single print job mode;
Fixed issue with saving the order of sorted files when exporting them as a list;
Fixed issue when MS Word could change the system default printer if Print Conductor printed DOC or DOCX files to another printer;
Fixed issue with sorting files by folder name;
Fixed issue with Windows version detection, especially on Windows 10, Windows Server 2016 and 2019;
Fixed the ability to silently clear a list of files after a print session is complete;
Fixed printing of CAD drawings via SolidWorks API in grayscale mode;
Fixed registry clean-up after uninstalling Print Conductor;
Other fixes and improvements.
Version 7.0 (January 28, 2020)
New graphical user interface
New smart file processing core
New Advanced Settings tab instead of INI file editor
New e-mail message formats: Outlook Data File (.pst), Offline Outlook Data File (.ost), P7M (smime.p7m)
New medical file format: DICOM
Ability to print files in single print job mode
Ability to print several pages of a document on a single paper sheet
Ability to add page numbers and file names via text watermark
Ability to sort and print list items by delivery time
Ability to print only specific worksheets of CAD or Excel files
Ability to import a list of files from Microsoft Excel file
Ability to save current List of Documents when quitting the program
2x faster processing of Word and PDF files
Improved printing speed and quality of DWG and DXF files
Redesigned print estimation report and post-print reports
More individual settings for list items are available
New HTML file processing engine
Reduced number of data requests to printer
Improved PDF Portfolio files processing algorithm
New manuals describing how to use the latest version efficiently
Version 6.3 (May 13, 2019)
Added ability to auto-rotate Excel worksheets when printing
Improved printing of Excel files with macros
Added ability to define line weight for DWG and DXF files
Improved printing of DWG and DXF with internal engine
Added ability to copy printed files to a user-defined folder
Added new optional PDF printing engine (works faster and correctly prints PDF files with filled forms)
Fixed issue occurring when INI-files could not be saved to folder "C:\Users\Public\Documents\PrintConductor\"
Fixed issue with printing PDF files with attachments
Added Korean localization
Version 6.2 (October 30, 2018)
Printing multiple DWG and DXF drawings without CAD software
Printing multipage ZPL labels
New supported formats: Microsoft Visio VSDM and PowerPoint PPTM
New cover page template: Filename without extension
Ability to recover page range value after restarting Print Conductor
Ability to use special Windows environment variables in document list files
Compatibility with eDrawings Viewer 2019
Thumbs.db are no longer added to the program's list
Localization to European languages
Minor fixes and improvements
Version 6.1 (May 15, 2018)
New formats supported: MathCAD (*.XMCD), Mathcad Prime (*.MCDX) and Solid Edge (*.DFT)
Ability to print multi-page DWFX drawings
Ability to select different PDF print engines
Ability to print DOC, DOCX files without document revisions
New scaling options for DWG, DWGX, DXF drawings
New types of cover pages
Localization to Turkish and Brazilian Portuguese
Faster creating of Pre-Print Report
Faster adding of files to the list with enabled Pages column
Improved interface: new tab added in the program settings and window scaling is fixed
Printing as image is now available directly in the interface
Print Conductor is now compatible with eDrawings Viewer (2018 version)
Improved interface: fixed window scaling and new tab added in the program settings
Fixed digital signature validation with PAdES standard for PDF files before printing
Fixed printing of cover and report pages when display sizing is larger than 100%
Minor fixes and improvements.
Version 6.0 (January 29, 2018)
Ability to add crop marks on PDF, image files, Word, Excel documents
Ability to validate digital signatures when printing PDF files
Ability to pause the batch printing process at any certain point and then resume it
Ability to instantly get error reports on documents which failed to print
Ability to enter password for password-protected PDF, DOC or DOCX documents in the interface
Ability to set paper format for Report and Cover pages
Localization to Dutch and Chinese
Improved PDF printing engine
Fixed fast-detecting of page numbers of PDF files
Fixed issues with printing Microsoft Visio files
Fixed issues with printing Microsoft Word files
Fixed line number display in the List of Documents
Version 5.6 (August 22, 2017)
Added "Rows Number" column for easier navigation through the List of Documents
Added ability to print several slides of a PowerPoint presentation file on the same page
Fixed rendering of PDF files to PNG for "Print as image" mode
Fixed issue with 1-Bit PNG image rendering
Fixed issue with bad clipping rendering
Fixed issue with inline image parsing
Improved English and Swedish interface translation
Fixed issue with ability to print documents and cover pages on different printer trays
Fixed bug in Microsoft PowerPoint automation code
Fixed bug in Microsoft Excel automation code
Fixed issue with "Choose paper source by document page size" feature.
Version 5.5 (June 14, 2017)
New format supported: Microsoft Project MPP
Simulate Overprint feature for PDF files
Ability to print BAT, CMD, Java, VBS, PS1 and PS1M script files
Ability to show/hide columns in the list
Ability to change columns order in the list
Ability to restore printer default settings after the print session
Date and time values in the "Date Modified" column are displayed according to your local date and time settings in Windows.
Version 5.4 (March 4, 2017)
New ability to print Zebra ZPL files (labels, industrial barcodes, QR codes)
New ability to print plain TXT files without Microsoft Word
New ability to set page orientation for each printed document
New ability to remove files after printing
Added processing of corrupted Outlook MSG e-mail files
Added processing PDF files with standard errors in the file structure
Added fast-track processing of Microsoft Word files
Improved PDF engine with better fonts rendering algorithm
Improved "Choose paper source by document page size" option
Fixed processing of Microsoft Excel files received from unreliable sources
Fixed data communication issue between the program and the printer
Localization to the Polish language.
Version 5.3 (January 9, 2017)
Added support for SWF, HPGL and PLT formats
Improved PDF printing engine
Higher performance for multi-core processors
Increased print speed for multipage PDF documents
Increased print speed for TIFF, JPEG and PNG, Bitmap and GIF files
Print Conductor is now compatible with eDrawings Viewer (2017 version)
New options for Microsoft Word: Enable/Disable Macros and Show/Hide tracked changes and comments (MarkupMode)
Fixed issue when Print Conductor crashes via Remote Desktop
Fixed AutoCAD DWG and DXF autorotation component
Other improvements and fixes
Version 5.2 (September 26, 2016)
Added support for Microsoft OneNote ONE (*.one) format
New ability to print documents from RAR or ZIP archives
New ability to estimate the number of paper sheets required – before the printing session
New ability to set cover page template
Optional printing of attachments and email headers for EML (*.eml) and MSG (*.msg) files
New ability to skip comments in MS Word files while printing
Localization to Swedish language
Improved PDF printing engine
Improved print quality for PDF documents
2.5 times less traffic load on network printer
Improved component for MS Word DOC, DOCX, RTF and MHTML files
Improved component for printing Microsoft Visio (*.vsd, *.vsdx) files
Improved component for automatic printing of PDF files using Adobe Acrobat automation API
Dynamic fields in MS Word documents automatically update before printing
Autodesk Inventor IDW files printing issue fixed
Autodesk and SolidWorks files printing issue fixed
Version 5.1 (April 13, 2016)
Ability to set quantity of printed copies for each file in the print list
Ability to sort files in the "Add Documents" window
Ability to print files with file path length more than 260 characters
Additional parameters for printing PDF files using Adobe Acrobat automation API
Improved algorithm for Microsoft Excel and Word files recognition
Other improvements and fixes
Version 5.0 (February 18, 2016)
Totally redesigned Graphical User Interface
Added support for CorelDraw CDR, PDF portfolio, CSV and CGM formats
Ability to print PDF files without annotations
Ability to print password protected PDF, DOC and DOCX files
Print Conductor is now compatible with free eDrawings viewer 2016, 2015 and 2014
Print Conductor is now compatible with free Autodesk Inventor Viewer 2016
Added "Fit in frame" mode for images and photos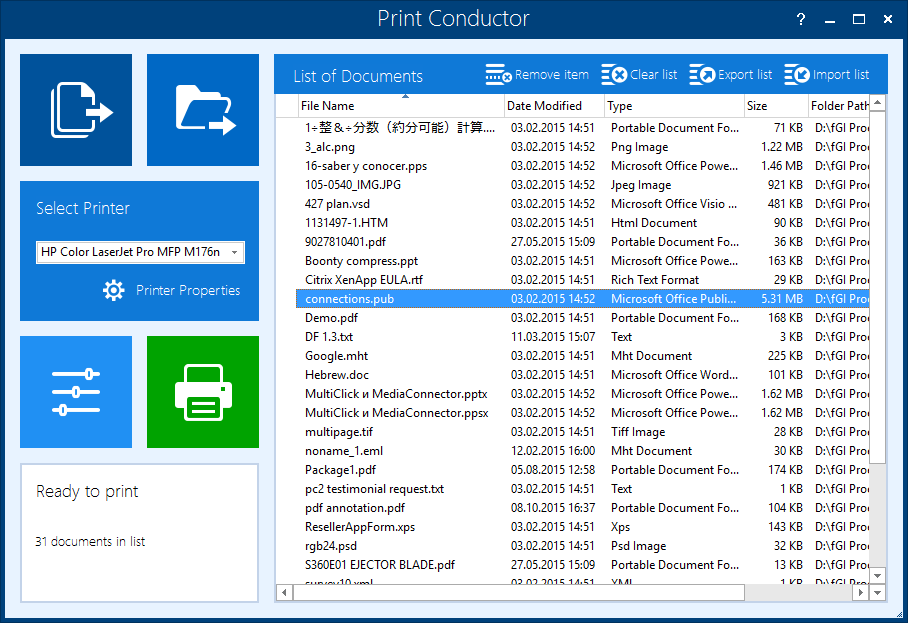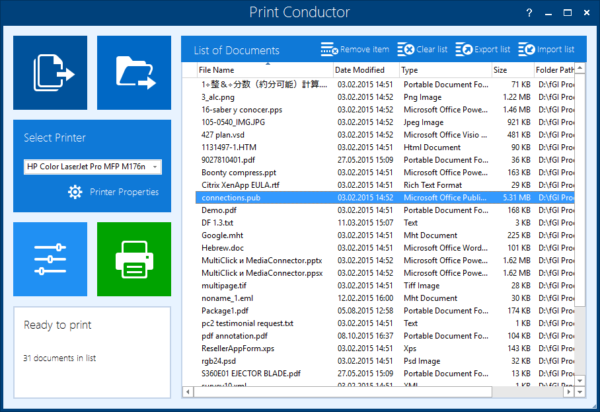 Version 4.9 (September 14, 2015)
Added support for WordPerfect WPD format
Added ability to rearrange files in the print list
Improved PDF printing engine
Fixed uncollated documents printing issue
Fixed password-protected documents printing issue
Version 4.8 (June 4, 2015)
Added support for EML, PostScript, EPS, DWF and DWFX formats
Improved algorithm for loading and saving print settings
Improved module for printing HTML and MHT files
Improved module for printing OpenOffice ODF, ODG, ODS, ODP and ODF files
Version 4.7 (March 19, 2015)
Added support for Adobe PSD and WMF formats
Improved PDF printing engine
Improved open-source API for developers
Version 4.6 (January 21, 2015)
Added support for MHT, HTM and HTML formats
Added support for Autodesk Inventor drawings (IDW, IPT, IAM and IPN formats)
Improved printing of DOC files
Version 4.5 (November 28, 2014)
Added support for PowerPoint PPS, PPSX and Java formats
Localization to Slovenian language
Version 4.4 (October 29, 2014)
Added support for XML, AutoCAD and SolidWorks formats
Added support for CAD formats: EPRT, EPRTX, EASM, EASMX, EDRW, EDRWX, SLDPRT, SLDASM, SLDDRW, PRTDOT, ASMDOT, DRWDOT, 3DXML, STL, CALS, PRT, XPR, ASM and XAS
Added support for WPC and SNP formats
Version 4.3 (August 20, 2014)
Added support for Outlook MSG format (e-mails and attachments)
Other fixes and improvements
Version 4.2 (June 16, 2014)
New and improved HTML printing engine
Added new Сollation options
New localization languages: Arabic and Czech
Other improvements and fixes
Version 4.1 (April 7, 2014)
Redesigned settings panel
Cover page for separation of printed documents
Printing one or several copies of a document
Printing all or a range of pages
Added collation of documents Added support for HTML and HTM format via Microsoft Word
Printing PDF files via Adobe Acrobat, Adobe Reader or internal printing engine
Version 4.0 (February 10, 2014)
Added support for Microsoft Publisher (*.PUB) format
Added support for SVG (*.SVG) format
Added support for OpenOffice (*.ODT, *.ODS, *.ODP, *.ODG, *.ODF) format
OpenOffice API
Version 3.2 (December 21, 2013)
Added support for XPS format
Open-source API for developers
Version 3.1 (November 21, 2013)
New and improved PDF printing engine
Improved printing engine for image files
New localization languages: German, Japanese, Russian, Italian, Spanish and French
Version 3.0 (August 5, 2013)
Added support for image files: JPEG, TIFF, PNG, GIF, Bitmap, PCX, and DCX
Added support for .DOC files created by WordPerfect
Sorting documents in the print list by date and time of creation
Version 2.1 (June 4, 2013)
Added support for network and virtual printers
Other improvements and fixes
Version 2.0 (April 15, 2013)
Redesigned Graphical User Interface
Added support for office software and CAD tools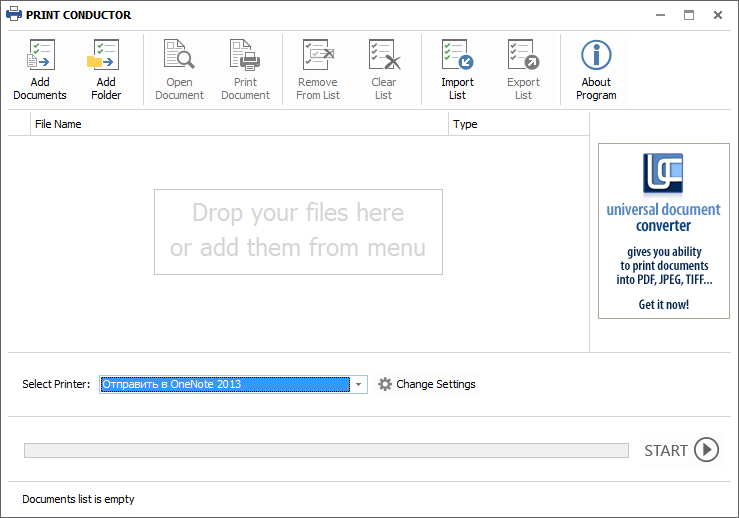 Version 1.0 (November 18, 2007)
First public version of Print Conductor
Added support for Adobe PDF, Microsoft Word DOC, Microsoft Excel XLS, Autodesk AutoCAD DWG, Microsoft PowerPoint PPT formats